It's something you have wanted for years. And we understand that longing. A hot tub is a place where you can relax and unwind at the end of a long day. It's a space where you can alleviate aches and pains, reconnect with family and friends, and simply enjoy the outdoors. 
A hot tub is an investment, though. When you are shopping for a hot tub in 2023, you want to buy the best hot tub. You want to choose a model from a top brand, and you want it to complement your backyard and lifestyle.
But how do you choose the best hot tub for 2023 and the years to come? There's so much choice, so many features, and a myriad of models – you simply don't know where to start. Which understandably leaves you feeling anxious you might make a choice you'll regret.
You deserve the hot tub experience you've been dreaming of. Master Spas offers an unrivaled range of hydrotherapy options so you can get the hot tub experience you've been dreaming of.
Keep reading to see what our picks are for the best hot tubs for 2023.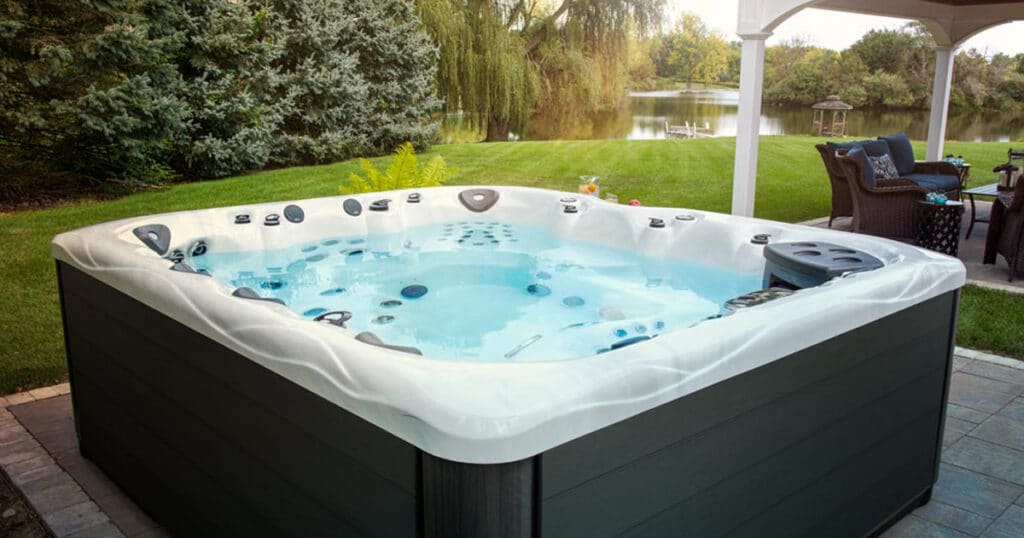 Best at-home spas for 2023
What makes a hot tub rank the best for 2023? Quality construction, thoughtful design, and targeted therapy are among the features of a top spa.
Our pick: Best hot tub for 2023
Why does the LSX 900 rank best? It brings a luxury spa experience to the privacy and comfort of your backyard.
An 8-person hot tub, the LSX 900 delivers therapy and relaxation. There are 72 jets, a full-size lounge, and the exclusive Xtreme Therapy Seat. Among the most popular features are the Master Blaster foot therapy jets. This unique pair of jets feature 14 individual nozzles each that treat the feet to a soothing massage.
There are three pumps that move the water through the jets and mineral filtration system.
What our customers are saying: "This is the ultimate hot tub. It's truly a relaxing, therapeutic hot tub by day, and a party hot tub by night – it's absolutely amazing!" — Tab, Texas
---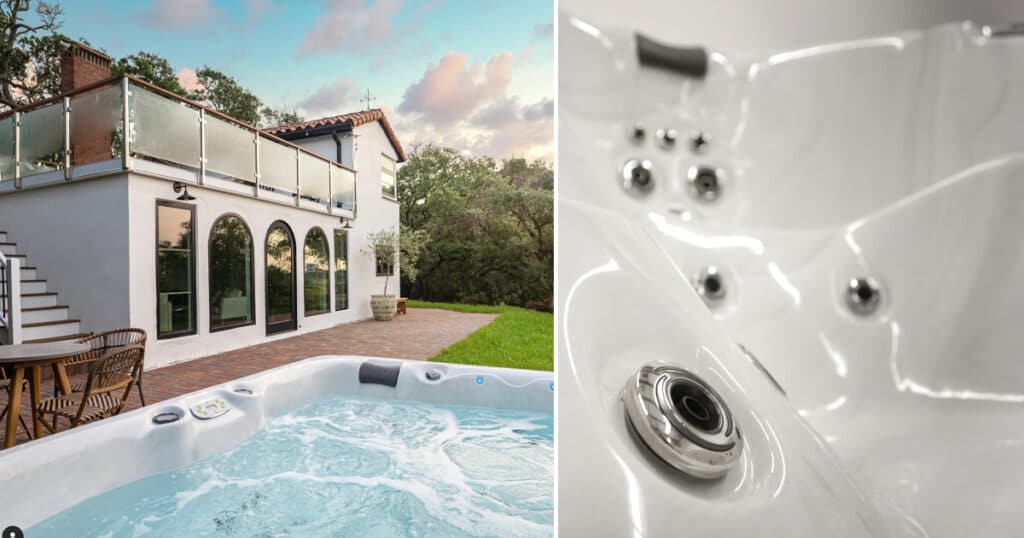 Best hot tub for large family
Do you want a way to reinvent family time without the distraction of screens? A hot tub is the perfect space to recharge and reconnect at the end of the day.
The Clarity Series Balance 9 is an eight-person hot tub with an open seating arrangement, providing space for the entire family.
There are 57 therapy jets in this spa, and there are a variety of therapy options as you move around. In addition, you can enjoy the LED lighting and water feature as you soak.
This is among the best hot tubs for 2023, coming in at an affordable price point while being made with quality materials.
What our customers are saying: "We absolutely love the size of our Clarity Balance 9 and all it has to offer! We use it several times a week. I love how spacious the foot well is, you can truly spread out and relax without feeling like your feet or legs will be on someone else's. There are jets to soothe every part of your back through the different seats." — H, Wisconsin
---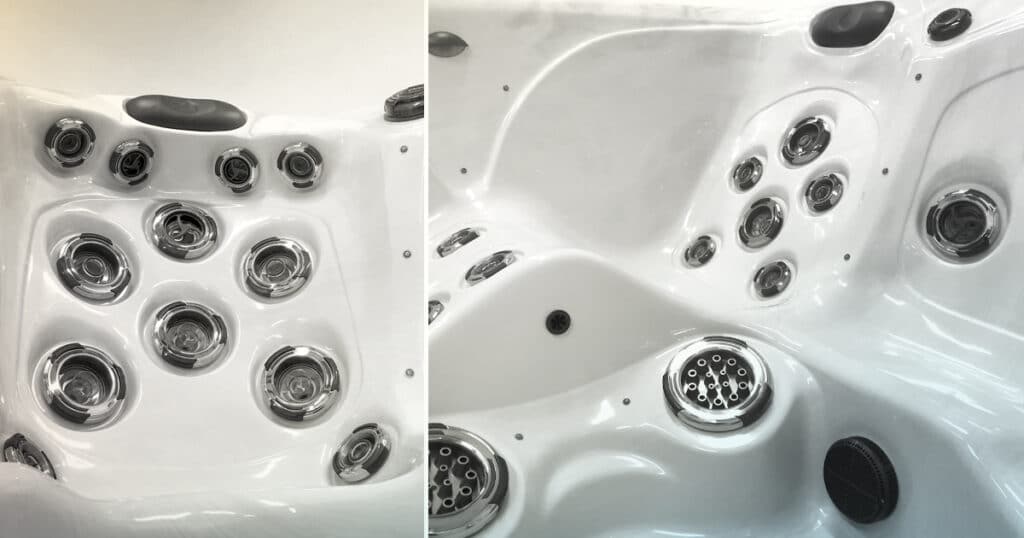 Best therapeutic hot tub
The Twilight Series TS 7.2 ranks as one of the best hot tubs for 2023 because of its versatility and comfort. A best selling-model by Master Spas, the TS 7.2 has room for the whole family without compromising valuable outdoor space. 
This six-person hot tub has 36 jets, with unique jet arrangements for each seat. There's a full-size lounger and the exclusive StressRelief Neck and Shoulder Seat.
Among the therapeutic features of the TS 7.2 is biomagnetic therapy. The system applies magnetic therapy to pressure points on the neck and back with the strategic placement of powerful magnets behind the StressRelief Neck and Shoulder Seat.
What our customers are saying: "As someone who experiences chronic joint and muscle pain on a near-daily basis, this hot tub has truly changed my life. Just the knowledge that it is there, ready for my use at any moment, is a great relief. Not to mention the ACTUAL therapeutic value it has had. Waking up in the morning pain-free and refreshed was something I hadn't experienced in a long time." — PQuiz, Missouri
---
Top small hot tub
Two- or three-person hot tubs are ideal if you want to enjoy some quiet time alone or are enjoying your retirement. In addition, if you have a small space or indoor room, a corner hot tub can be a great pick. However, you still want the features and quality of a larger hot tub.
The Twilight Series TS 240 is a cozy corner hot tub with 26 hydrotherapy jets. There are also soothing foot therapy jets, a waterfall, and LED lighting.
Make the most out of the space you have with this best small spa for 2023. 
What our customers are saying: "I totally made the right choice with the TS-240 three person tub. Even though it is just a three-seater, the tub offers plenty of space. It has two seats and one lounger. Each seat gives you a different relaxing position that will wash away those end of day aches. The jets are positioned well for each seat. Controls are user friendly and the LED lights are quite relaxing." —JT, Canada
---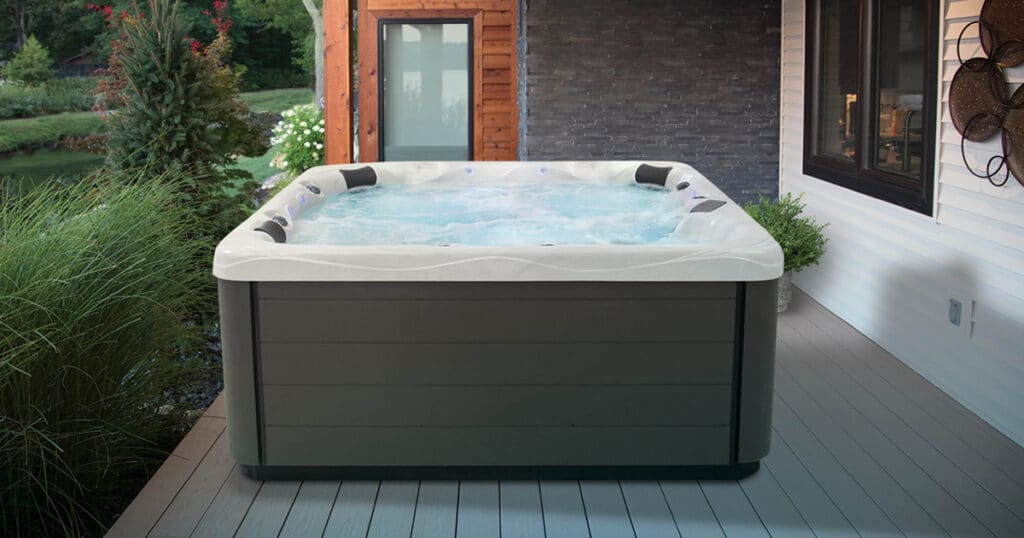 Best affordable hot tub
Just as there are a wide range of hot tub models, there is a range in pricing. How much a hot tub costs can depend on the size, style, and features.
But you deserve to find a therapeutic spa that's in your price range.
The Balance 7 is a popular choice as it's from Master Spas' Clarity Series, which is budget friendly but made to our construction standards.
This six-person hot tub can help you transform your space into a backyard oasis. There are 38 jets, including a full-size lounge and StressRelief Neck and Shoulder Seat. Enhancing the soaking experience are contoured spa pillows, ambient LED lighting, and soothing water features.
What our customers are saying: "This is our first hot tub so this was a brand new adventure for us. I can tell you that I am glad we spent the money to get the best. Maintenance is super easy and the filtration system keeps the water crystal clear. I have other friends that have other brand hot tubs that spend way too much time trying to keep the water clean. We use our Master Spa every day and love it." — JC, Texas
How much does a hot tub cost in 2023?
Are you ready to invest in your well-being and backyard? Master Spas hot tubs can be enjoyed this year and many years to come. You can click here to learn more about the benefits of hydrotherapy. Or, contact your local Master Spas retailer to learn more about hot tub ownership. Wondering how much a Master Spas hot tub costs? You can request a quote here.