You can see it now — the relaxing water as you gaze into your backyard. Your kids splashing and playing with their friends. Leisurely swimming laps on a summer morning.
You are envisioning a pool in your backyard, and you think you're ready to take the plunge.
Until you meet with a builder.
The relaxing picture is replaced with talks about excavators, weeks (maybe months) of construction and a price tag that is more than you had anticipated.
But your dream of swimming in your backyard doesn't need to be over. A Master Spas Swim Spa has many of the same benefits of a traditional pool but without the headache and price tag.
Benefits of Owning a Swim Spa
Ease of installation
Smaller footprint
Lower cost
Versatility
Hot tub seating
Year-round use
Family fun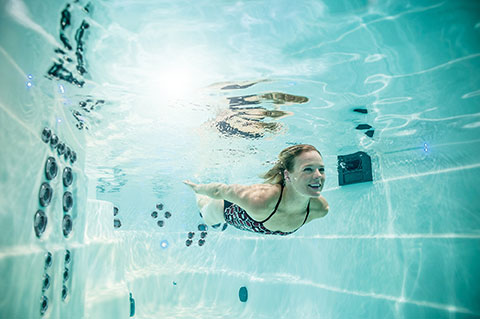 Ease of Installation
Installing a swim spa does not require a major construction project — just a solid, level surface. And once the space— most likely a concrete pad — is ready, the swim spa can be placed in less than a day. A crane might be necessary to place the swim spa, depending on your backyard access, but a reputable swim spa dealer will be able to coordinate delivery with minimal hassle.
Smaller Footprint
A Master Spas Swim Spa is the perfect pool alternative for a small yard. A standard inground pool is twice as long as it is wide — so 10 x 20 feet or 15 x 30 feet. But a pool also requires additional patio space and clearance. A Master Spas Swim Spa comes in a variety of sizes, from 11 feet in length to 19 feet, giving home owners with smaller yards a pool option.
Lower Cost
A traditional in-ground pool can have a price tag of up to $100,000 but the cost grows over the life of the pool. Maintenance, chemicals, water and utility bills add up. A swim spa has a lower price up front and costs less during its lifetime. Energy-efficient construction and foam insulation translate to lower utility bills. There's less water, too. A standard pool has more than 10,000 gallons compared with about 2,000 gallons in the largest Master Spas Swim Spa.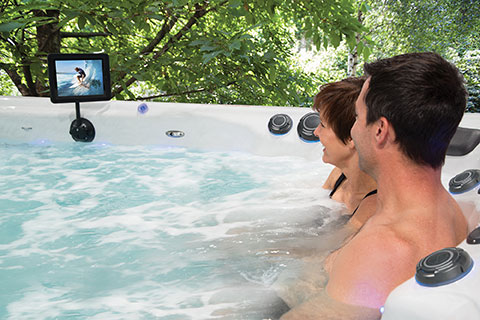 Versatility
A swim spa's current, which comes from a jetted or propulsion system, was designed for swimming in place. Consider it a treadmill for swimmers. But the water, and the Master Spas swim spa, offers a place for more than just working on your freestyle. The natural resistance and buoyancy of water makes it a natural place to aqua walk or jog, exercise, strengthen and stretch. Swim spa users benefit from reduced impact on joints and improved mobility. Master Spas includes its H2Xercise Fitness System, which comes with resistance bands and rowing bars, as well as a complete guide to aquatic exercise.
After an exercise session — or just because — users can turn up the water temperature and turn on strategically placed jets that promote recovery and relaxation. Many Master Spas swim spas have a hot tub area where massaging jets can work out aches and pains. There are even models with the best of both worlds built-in — two separate water environment and temperature settings. What does that mean? On one side, someone can exercise in cooler water while others enjoy the relaxation of the hot tub on the other side.
Year-Round Use
A swim spa is built to be used year-round. The water temperature can be controlled, a lower temperature for exercising and up to 99 degrees for relaxing and therapy benefits. Whether it's snowing or 90 degrees, the water is always perfect.
Master Spas Swim Spas feature environmentally friendly foam insulation that keeps the elements out and the water perfect.
Family Fun
A swim spa is an inviting space not only for solo workouts but to reconnect with family members. Children will enjoy swimming against the current, playing with the jets turned off and hanging out. Couples enjoy finding a chance to talk at the end of the day. And friends are going to want to come over when there's a chance to spend time swim spa-side.
To learn more about owning a Master Spas Swim Spa, contact your local dealer.