Mirinda Carfrae is a three-time IRONMAN World Champion, and she holds the run course record on the Big Island. Carfrae covered the 26.2 miles of the IRONMAN race in 2 hours and 50 minutes.
But there's more to triathlon than running. An IRONMAN distance race also includes a 2.4-mile swim and 112-mile bike. Training for a race requires balancing the three disciplines, along with family life.
For Carfrae, her training includes a year-round focus on swimming. In the off-season, she focuses on maintaining the feel of the water and good technique. During race prep, she focuses on strength and regulating her breathing to improve swim times.
As a mom of two, though, there are times when it can be a challenge to fit in extra time in the pool — even as a professional triathlete.
Her H2X Challenger 18D Pro has been a game-changer. The swimming pool alternative by Master Spas offers a convenient space to get in a recovery swim, relax, and spend time with her family.
"It's been a positive addition to our home," says Carfrae, who is a Master Spas athlete.
In a video series with Master Spas, Carfrae shares how she incorporates a swim spa into her training.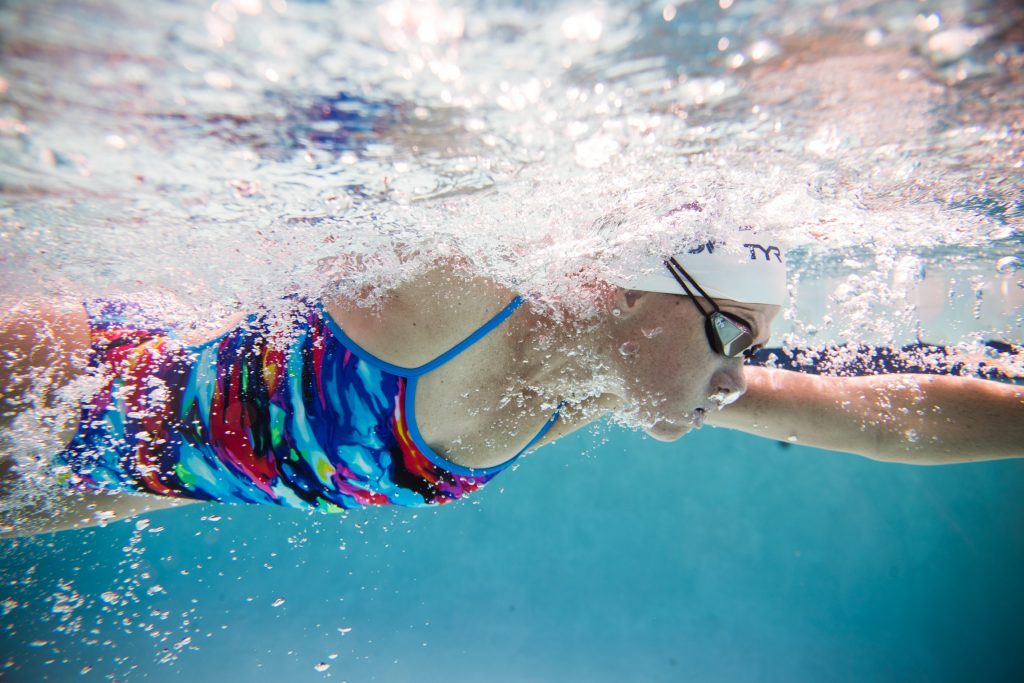 Carfrae's pro triathlon training tips
Mirinda Carfrae grew up on a farm outside Brisbane, Australia, with her five siblings.
"I think I excelled in sports because I grew up with tough brothers who didn't let me win," she says. "I certainly had to earn anything I got from them. I've always strived to do my best, and it's taken me around the world a few times."
While Carfrae was active, she did not grow up swimming, biking, and running. It was not until a triathlon coach saw her speed on the basketball court that she gave it a try. While she did not have a background in swimming, cycling or running, she quickly showed promise and made the Australian Junior Elite Team.
She has gone on to win three IRONMAN World Championships, as well as numerous podium finishes both at the 140.6 and 70.3 distances.
In these pro tip swimming videos, Carfae shares how she prepares for long-distance triathlon races using a Master Spas swim spa.
Swim snorkel for training
At its most basic, a snorkel is a tool that helps you breathe while swimming underwater. The streamline design of a center swim snorkel makes sure that it doesn't interfere with your stroke. You can maintain a streamline position and focus on hand position in the water. With the addition of swim mirrors, you can focus on your elbow position and pull.
Mirinda Carfrae incorporates a swim snorkel into her training, including her swims in the swim spa. Swimming with a snorkel is relaxing, she says, even as she works on her technique and position in the water.
"I love using the snorkel," she says, adding that it's a great tool for training.
The H2X Challenger 18D pro has an endless swim current that allows you to swim in place. You can adjust the speed of the current using the touchscreen panel, as well as set other features like temperature and LED lighting.
For athletes, it provides an at-home training and recovery option. It can complement your pool swimming or be the centerpiece of your routine. In addition, there are hot tub seats with massage jets for recovery and relaxation.
Sighting practice for triathletes
During most swims, you don't have to think about where you are going. In a swim spa, your goal is to swim in place. You can look at the bottom of the spa and use the non slip flooring as a guide. If you are in a pool, you are often staring at the black line.
In open water, though, you might find that it's more challenging to swim the course. You can't see the bottom of the water, and the current can change your direction. You might not mind swimming a longer route during training. However, when you are participating in an event, you want to stick to the course.
How do you maintain the position? Sighting. Sighting is when a swimmer lifts her head and scans for landmarks, like buoys, along the course. It's an important skill to practice during training so you can maintain your rhythm and confidence. In addition, it can help you keep a strong pace while sighting.
Carfrae likes to set the speed of the water current so it mimics her race pace. She will take 10 to 15 strokes and then lift her head to sight.
"It's really great to swim in the Master Spas because it's so similar to swimming in the open water. There's no sitting on the wall, there's no flip turns, there's no resting," Carfrae says. "You're just in there and you're swimming."
Swimming during pregnancy
Carfrae is used to tackling tough workouts, whether it's at the track or in the water. However, she had to make changes to her triathlon training routine when she was pregnant.
But Carfrae found that she was able to keep up her cardio by swimming in the swim spa. Carfrae enjoyed swimming in the afternoon, after she had been up and about during the day. These afternoon swims also helped her alleviate low back pain and achieve better sleep in the later stages of her pregnancy.
Swimming is a low impact exercise that benefits your overall health, including strength and cardiovascular fitness. It's considered a safe exercise during pregnancy. The water can help you relieve pressure on the joints and reduce inflammation. However, you should always consult your doctor.
Post-partum, Carfrae found the swim spa to be a valuable tool in her return to training. She was able to get in a quick swim without leaving home, and she was available if baby Finn needed her. These 20-minute sessions in the swim spa helped improve her energy and left her invigorated — key when you have a newborn, Carfrae says.
Triathlon training at home
Do you want to be able to balance triathlon training with daily life? Having a Master Spas swim spa allows you to swim on your schedule while adding a fun factor to your backyard. You can click here to find out more about the benefits of hydrotherapy and relaxing in a hot tub. Or, contact your local Master Spas retailer to learn more about swim spa ownership. Wondering how much a swim spa costs? You can request a quote here.