Buying a hot tub does not have to be a complicated process. Shoppers can visit a Master Spas showroom or event, speak with a knowledgeable salesperson, and select the best model for the person's budget and space.
But shoppers might have some questions about what happens after the paperwork is signed — specifically the installation process.
Master Spas hot tubs can be installed in less than a day once the space is ready. Homeowners, though, might need to do some prep work before the hot tub arrives.
Download our Backyard Planning Guide to learn more about preparing for your hot tub delivery.
Do I need a permit to have a hot tub?
Local building codes and housing association covenants vary from area to area. Some states might require a building permit while fencing might be necessary in others.
In Indiana, where Master Spas is located, the law does not require a structural permit depending on the size of the hot tub. But our most popular model, the Twilight Series 7.2 is deep enough (38 inches) that it might require a permit.
Your local Master Spas retailer should be familiar with the rules. But it's best to know what is allowed in your city and neighborhood before buying a hot tub.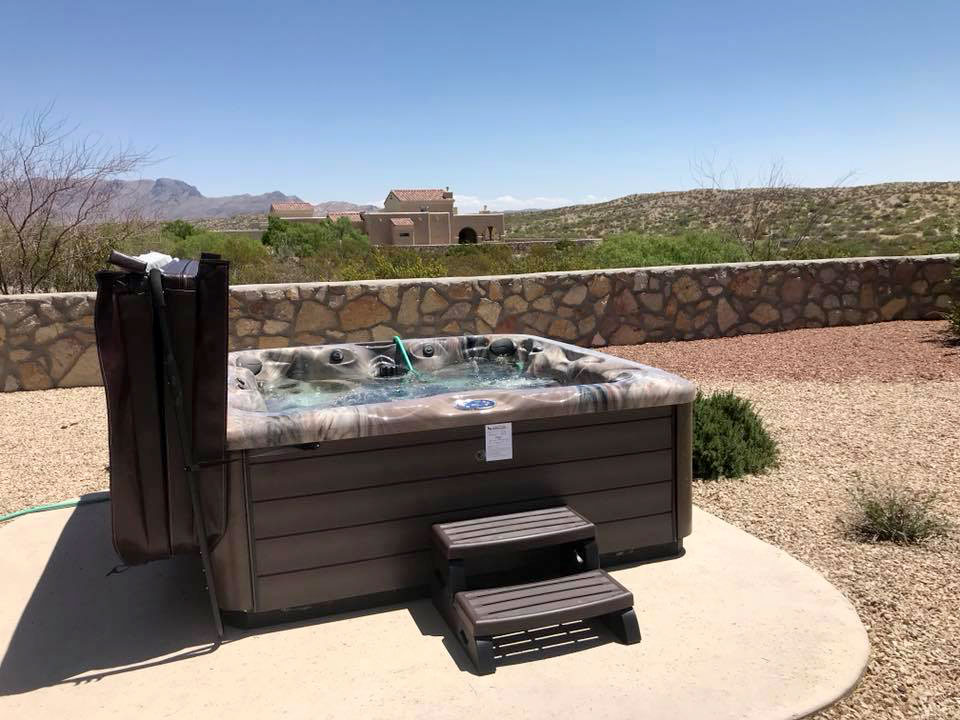 What is required to install a hot tub?
The basics for hot tub installation include a solid surface that can hold the weight of the hot tub, appropriate drainage, an electrical hook-up, and equipment bay access.
Can you put a hot tub on grass?
While using a hot tub is fun and relaxing, safety is first.
It might seem like a good idea but you should not put a hot tub on grass. The bare ground cannot support the weight of a hot tub, which can be close to 5,000 pounds when filled with water. The hot tub might begin to sink into the ground over time, and it may or may not stay level.
A hot tub requires a stable surface — whether it's a concrete slab, reinforced deck, or firmly compacted soil with crushed gravel. There's also the option to have the hot tub installed in the ground but that still requires a concrete vault.
For concrete installations, you should go with a 4-inch-thick reinforced concrete base that can support 120 pounds per square foot.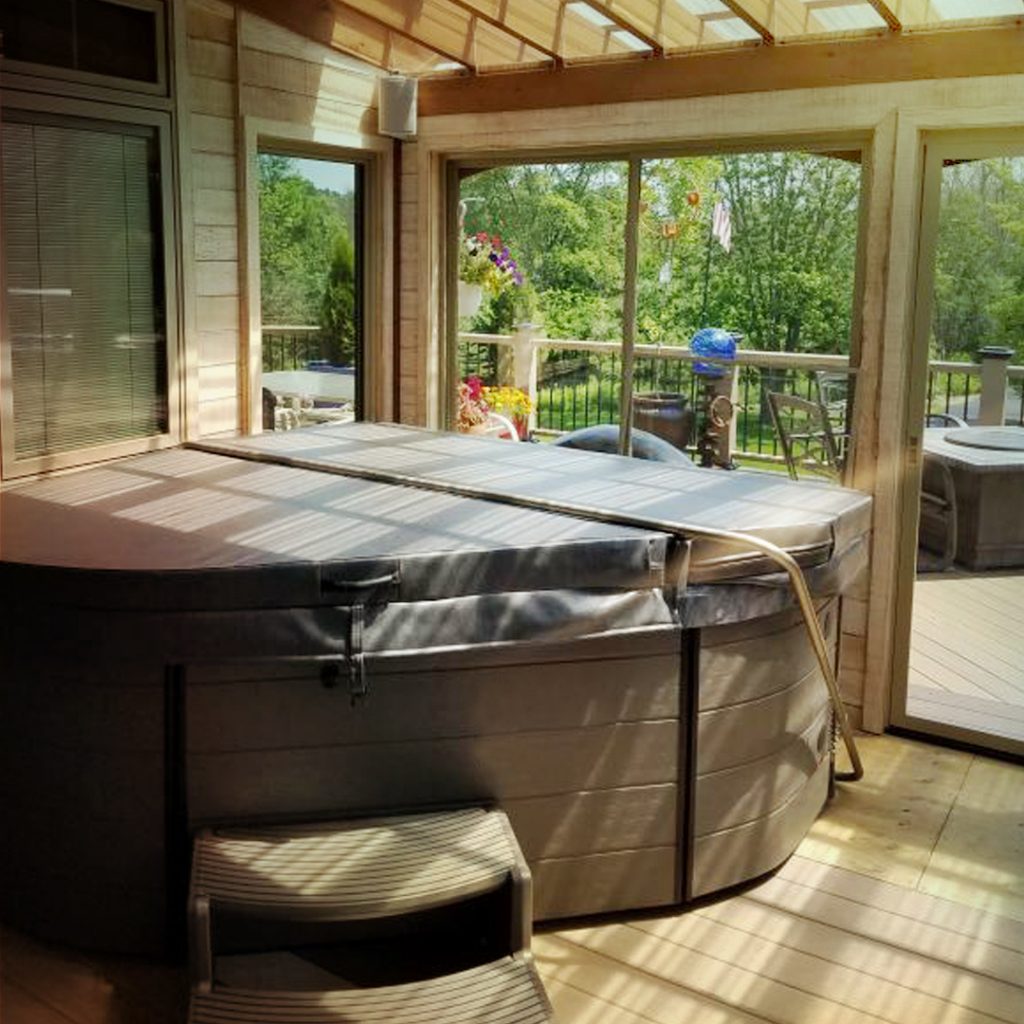 Can you put a hot tub inside?
Most definitely! But there are few things to consider before choosing an indoor hot tub installation.
You will want to talk to your Master Spas Dealer to determine the exact size of the opening needed to move the hot tub into the room, as this will vary based on the model you've selected.
Also, you will want to plan for ventilation and humidity control. When the hot tub is in use, considerable amounts of moisture are produced. This moisture can damage walls and ceiling surfaces over time. Check to make sure that your paint, wallpaper, and woodwork can withstand increased humidity levels. In most cases, an exhaust fan is needed.
Because water may accumulate around the hot tub, it is recommended that a floor drain be installed. For safety reasons, proper floor materials should be installed that are slip resistant when wet.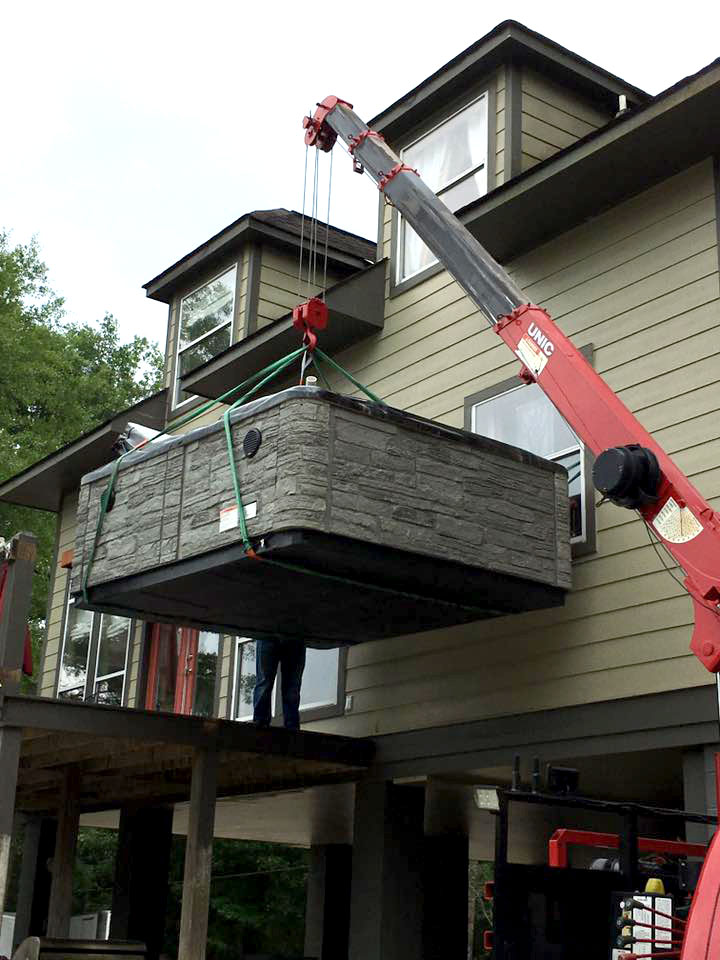 Can you put a hot tub on a deck?
If you want to put your hot tub is being installed on a wooden deck, it is best to have a qualified contractor or structural engineer evaluate your structure. The deck will need to be able to handle the weight and size of the hot tub when it is filled with water. It is possible to have the deck reinforced before delivery.
And once the hot tub is there, it might be placed with a forklift. In rare cases, when access is difficult, a crane may be needed.
Check out more installations on our Houzz page!
How do you get the spa to the patio?
Many hot tubs can be placed on a patio using a forklift.
Before it arrives, we recommend walking the path that your new hot tub will travel during delivery and take measurements along the way. Be sure to measure side yard dimensions, gates or doors. Any other space limiting obstacles such as trees or shrubs must be evaluated as well.
Access to your chosen installation site must be solid, level ground that has been cleared of any obstructions prior to arrival. Keep in mind that you will need to remove any doors, windows, walls, handrails or other obstructions.
How to install a spa pad?
A hot tub pad, also called a spa pad, is a product that provides a level foundation — when the ground is properly prepared.
Once a site has been selected, homeowners should remove the sod and dig down about 4 inches. Just as required for a paver patio, the ground needs to be tamped down and then covered with sand and pea gravel.