You can enjoy a hot tub during any season but Mother Nature can have other ideas. Wind, rain, snow might try to deter you from enjoying a relaxing soak. But a proper hot tub enclosure can make any day perfect to realize the benefits of a hot tub.
An enclosure for your hot tub or swim spa can help you avoid the elements while adding to your overall backyard design. Depending on the style, the enclosure can protect you from precipitation or provide shade in the summer. Enclosures, like a three-season room or solarium, can offer even more relief from the weather — including the wind.
Even on the most blustery days, the water of your hot tub by Master Spas will be warm and relaxing. Master Spas products are designed to be used year-round, no matter the climate. Full foam insulation and quality covers help maintain the water temperature.
Are you considering buying a hot tub? Check out these Master Spas installations that are sure to inspire your hot tub enclosure project.
To shop hot tubs near you, visit the Master Spas dealer locator.
Hot Tub Enclosure Options
From minimal to grand, there are myriad options when it comes to hot tub enclosures. Choose to provide 360 protection or keep it open-air so you can enjoy the fresh air.
Pergola. A pergola is an open-air structure that has support beams and a decorative roof. Columns or pillars support the structure.
Gazebo. Similar to a pergola, a gazebo is a permanent outdoor structure. It is often a hexagon or octagon shape with railing along the perimeter.
Canopy. Often portable, an outdoor canopy would be staked down in the yard and provide shade for your hot tub. Some canopies have side walls that can be pulled back to catch a breeze.
Solarium or three-season room. A glass enclosure, a solarium feels like an extension of the indoor living space. It allows plenty of natural light while offering a controlled climate.
Privacy screens. A privacy screen can be built as part of a deck, or you can opt for moveable panels. Privacy screens offer just that — privacy — and can also block the wind. However, they do not have a roof and do not provide as much protection from rain and snow.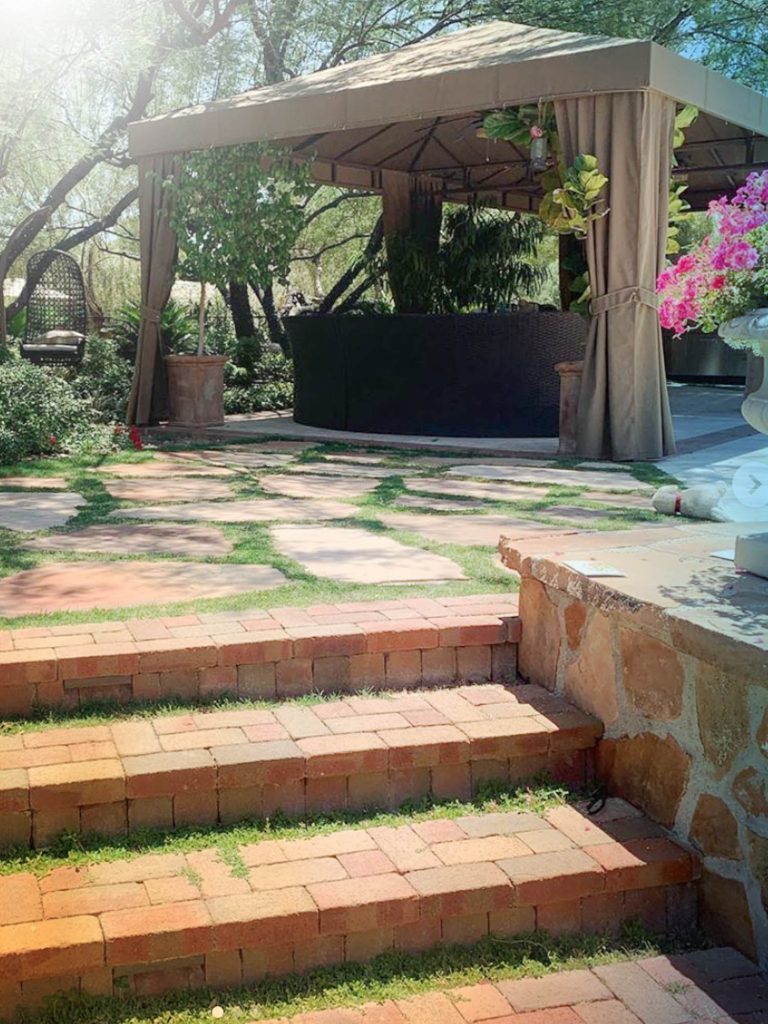 Best Swim Spa and Hot Tub Enclosures
Portable Canopy
This backyard design features a large canopy with walls. Large terra cotta stones are nestled in the grass for comfort and style. Hanging baskets and large planters offer color and a fresh feel to this raised patio. The hot tub by Master Spas, along with a comfortable outdoor couch, are on a concrete pad.
---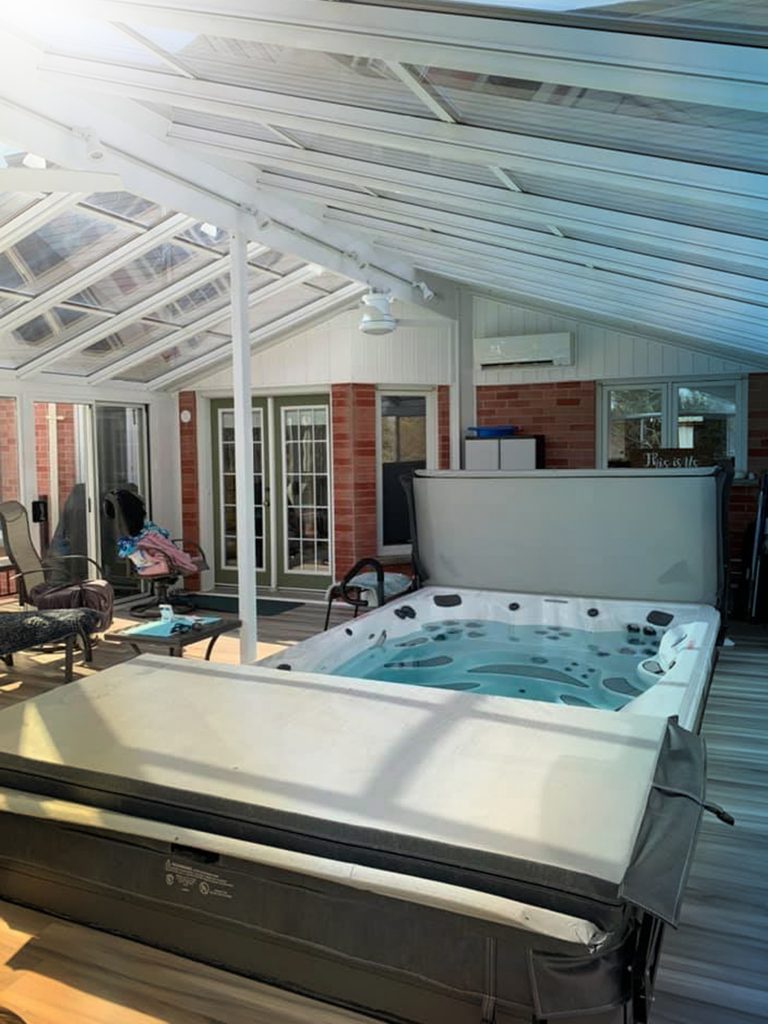 Solarium
This installation features a recessed swim spa by Master Spas, which can be used as a large hot tub when entertaining. The solarium has floor-to-ceiling windows and a glass room. The natural light casts a beautiful glow on the crystal, clear water of the swim spa. Relax in one of the many patio chairs or cozy up to the massage jets.
---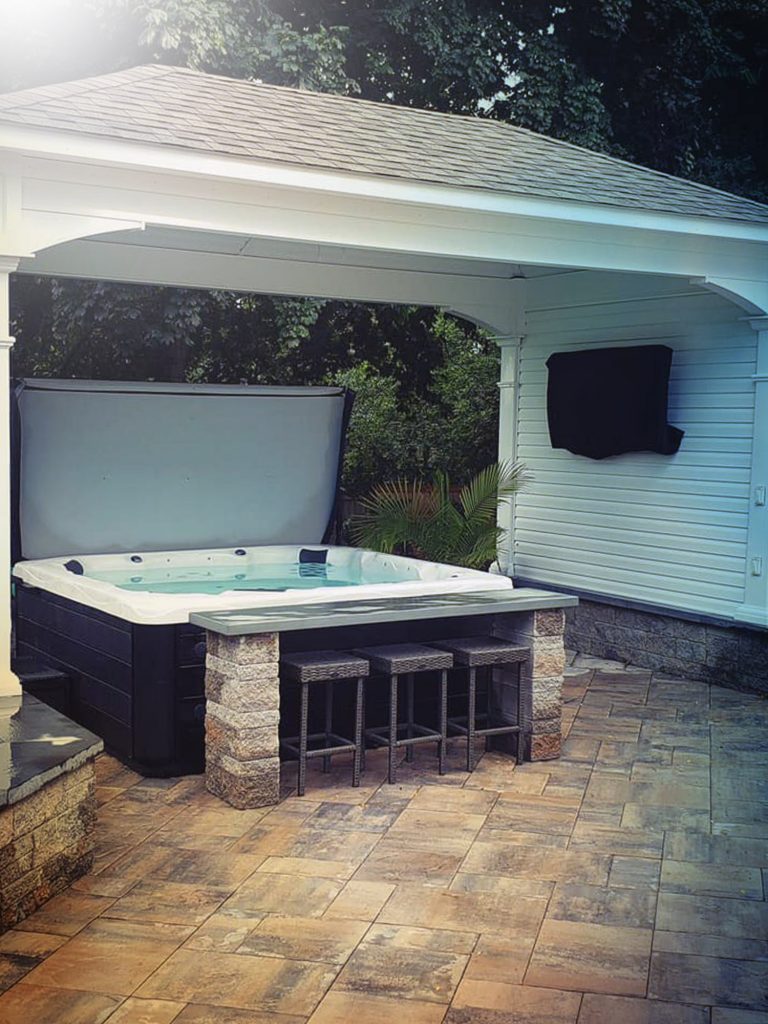 Pergola
With two sides and a full roof, this pergola acts as a barrier to the wind and sun. A stone bar was built next to the hot tub to create a swim-up bar effect. There's also an outdoor TV, which is perfect for entertaining.
---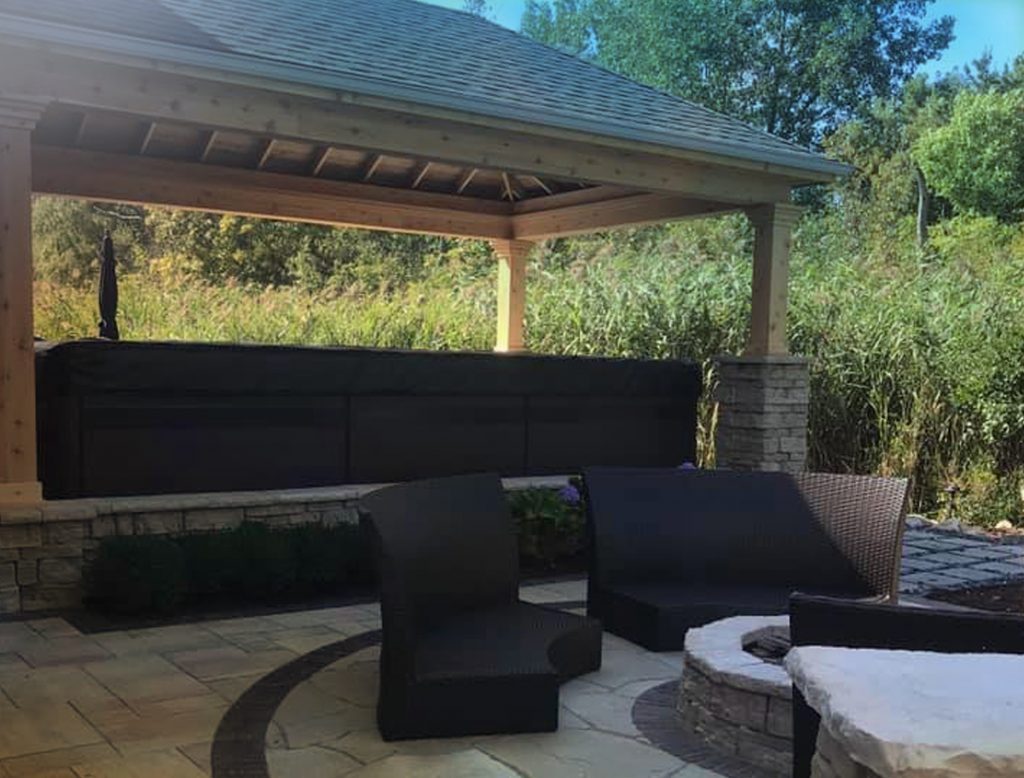 Pergola with Fire Pit
This grand enclosure features stonework and rustic wood beams to define the space, while a large roof protects a swim spa by Master Spas. The outdoor living space also features low sofas and a cozy fire pit. A row of well-trimmed bushes adds softness and color.
---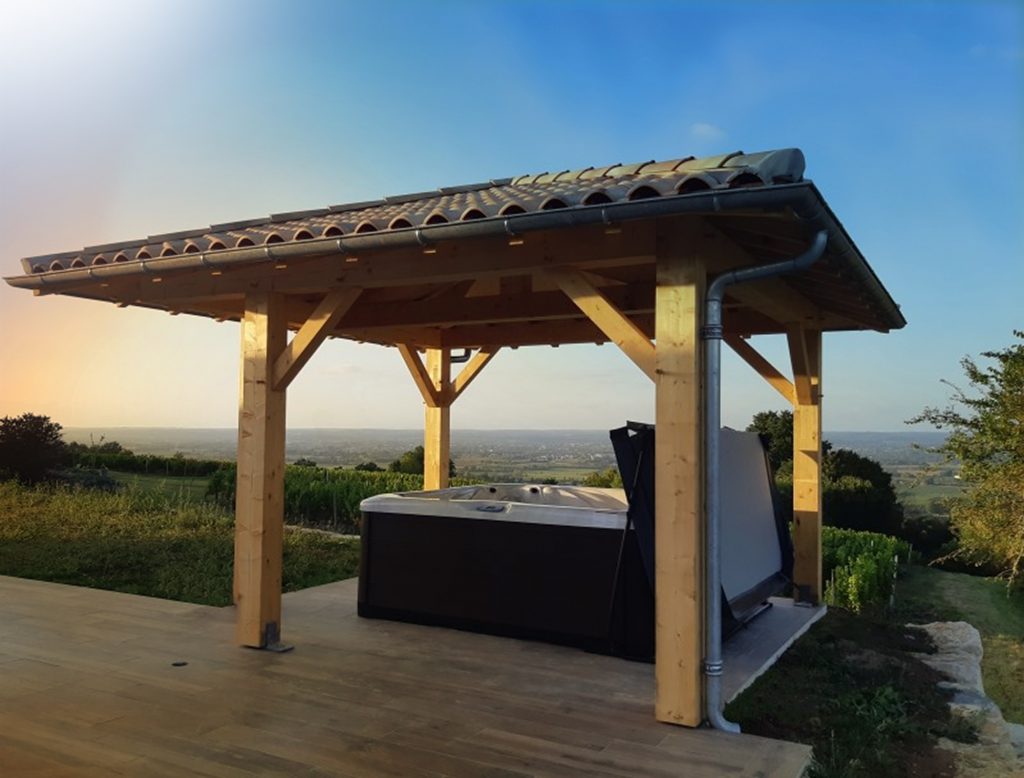 Pergola with Tile Roof
The view is the star of this backyard design. The open-air design of the pergola allows people in the hot tub a stunning perspective of the countryside. A wood deck offer support for the hot tub while complementing the rolling green hills.
Can you picture one of these installations in your own backyard space? Download our Hot Tub Planning Guide and get more information about how to install a hot tub.