Not every guy has one, but most covet it. Folks, we're talking about the proverbial man cave! It's a place where guys can be guys. Lounge in your favorite chair, watch sports, and do all things manly.
But why settle for a dark and dingy basement when you can create the ultimate man cave in your backyard?
In honor of National Men's Health Month, we thought we'd share some ideas about how a hot tub can serve be the catalyst for creating an outdoor man cave where you can relax after a long day and entertain friends.
Warning: You'll probably have to share with the family!
A hot tub to fit your lifestyle
Not all hot tubs are created equal. In fact, there are some hot tubs on the market that promise a lot, but don't quite deliver. With a Master Spas hot tub, you can rest assured that you've bought a superior hot tub designed to give you the full relaxation experience with minimal maintenance. With features such as EcoPur® Charge filtration, peaceful waterfalls, built-in Bluetooth® speakers and, LED lights, you can channel your inner zen while relieving sore or fatigued muscles.
On the chance that you're in a sharing mood, a hot tub also creates a place where you and your significant other can connect and have real quality time. As most people aren't bringing their mobile devices near water for fear of it being irreversibly damaged, everyone can disconnect and unwind at the end of a long day. Studies also show that soaking in a hot tub before bedtime can help you sleep better.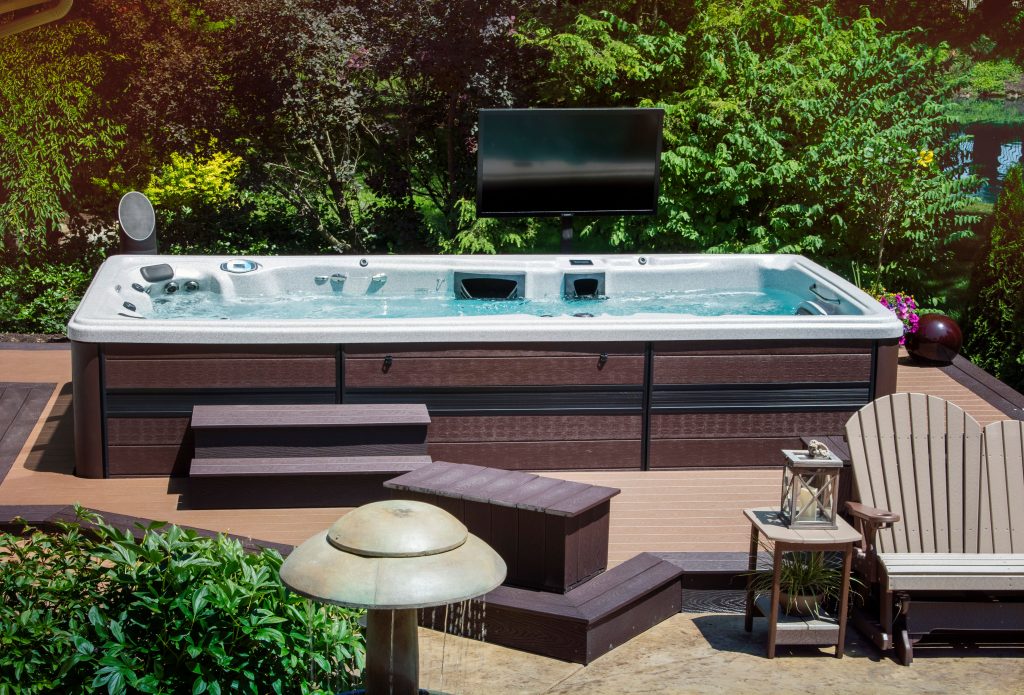 Entertain in comfort and style
Basketball finals? Yes, please!
If having a comfortable space to watch the big game is a priority, add an outdoor TV to your outdoor man cave plans. An alternative is connecting an  iPad using our waterproof case and mount. Hot tubs with built-in cup holders are convenient, keeping drinks within arm's reach and minimizing the risk of spills, which is key in keeping your water crystal clear. Likely, one of the reasons you've either bought, or are considering buying, a hot tub is to entertain. Be certain to consider options that will allow you to get the most out of your investment.
Outdoor man cave ideas
Your goal is to create the ultimate outdoor man cave, right? Consider some of these ideas that will make your back yard the envy of your neighborhood. Incorporating a gazebo will keep your hot tub covered so that it can be enjoyed in any kind of weather.
Most everyone loves to barbecue. An outdoor cooking space complete with stone masonry and a refrigerator (perfect for stocking your favorite drinks) will maximize your time outside.
Or, let's be real visionaries here. Imagine converting your shed into an outdoor bar — complete with bar stools, taps, and plumbing. Building a fire pit close by adds even more ambiance and warmth.
Build upon your hot tub
Purchasing a hot tub opens a world of possibilities. From choosing its placement, to designing the surrounding landscaping and décor, the creative options are endless.
Consider your hot tub installation options: above ground or recessed, surrounded by a deck or encased in stonework. You can also frame your hot tub with Vegas-style cabana curtains or create an outdoor seating area, complete with comfy pillows, to surround the hot tub. If you enjoy gardening, building planter beds around the perimeter of your hot tub can add beauty, as well as create privacy.
More hot tub ideas
By implementing a few simple additions to your hot tub landscape, you can transform your backyard from a place where you mow the lawn into the outdoor man cave you've always wanted.
For more hot tub installation and landscape ideas from Master Spas, download our Backyard Hot Tub Planning Guide.