Professional triathlete Ben Hoffman was all smiles. The eight-time IRONMAN champion had the honor of being one of the first to swim in the H2X Challenger 18D Pro, a new swim spa designed by Master Spas.
Hoffman was no stranger to swim spas — he had been incorporating an H2X Challenger 15D swim spa into his training routine. But the new Master Spas swim spa was designed to provide a faster swimming experience for competitive and professional athletes.
"It was really an epiphany!" Hoffman says, recalling that first swim. "I feel like the power was obvious, but the sensation of lift, and just the overall smoothness of the water flow was noticeable.
"I could tell immediately that it was engineered to help all levels of swimmers get the most out of their workout."
Swim spas combine the benefits of a pool with the therapy and relaxation of a hot tub. For triathletes like Hoffman, these swim-in-place pools can be a valuable training tool. You can swim on your schedule, work on your form, and make recovery a priority.
However, when you are considering a swim spa, there are several factors to consider. You want to compare the swimming experience, along with the size, features, and how it will complement your backyard space.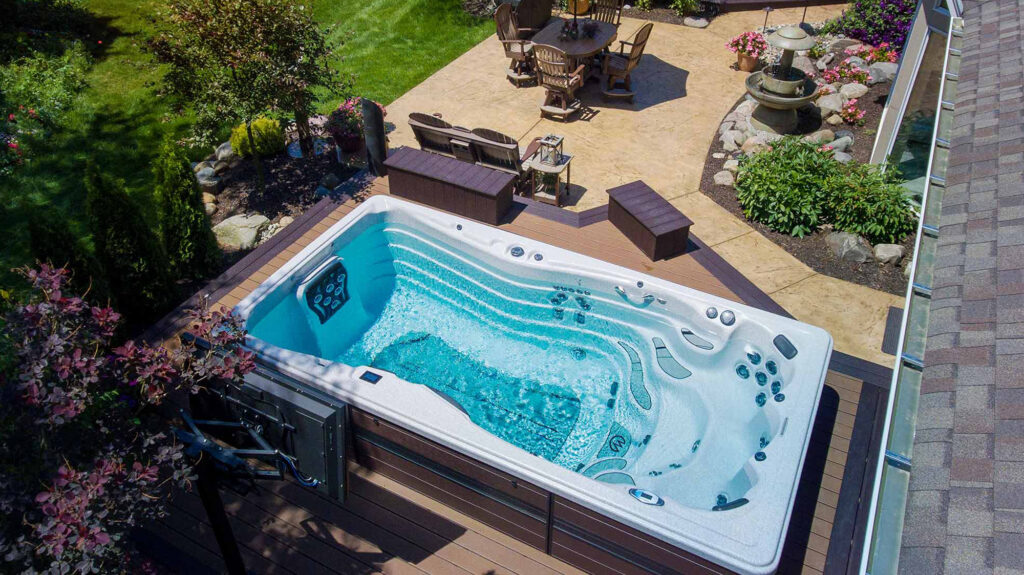 Comparing swim spas
Whether you are training for a triathlon or want an alternative to a backyard swimming pool, a swim spa takes the stress out of exercise and swimming. The water reduces the effects of gravity on your body, and the backyard convenience means that you are no longer double checking pool hours on the way to the gym.
A swim spa is an investment, and you want to feel confident that you are choosing the best swim spa for your lifestyle, space, and budget.
The H2X Challenger swim spa series by Master Spas was designed to provide a quality swimming experience. The jetted system does not introduce air into the water current, creating a smooth, wide channel for swimming in place. There are three swim pumps, too, allowing you to adjust the power of the water flow.
But within the Challenger series, you can choose from the standard range or go pro. Introduced in December 2020 at Challenge Daytona, the Challenger 18D Pro takes performance to the next level.
Comparing these swim spas, you'll want to consider which spa should be strong enough to challenge you but also adjustable to your level of ability.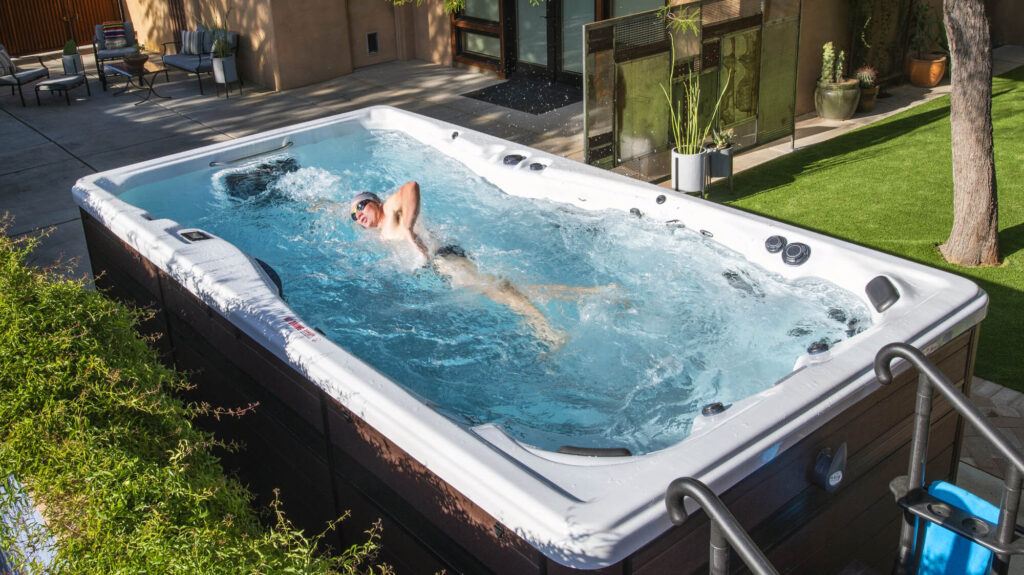 All about the Challenger 15D
Master Spas unveiled the H2X Challenger series in 2019. A "game changer" for the swim spa industry, its innovative design and advanced features make it a standout choice for anyone looking to improve their swimming abilities, build endurance, or simply enjoy a leisurely swim.
Dimensions and design
While Challenger series spas come in a range of dimensions, the 15-foot model is a popular model. It is ideal for most backyards, and it has ample space for most swimmers.
One of the standout features of the Challenger 15D is its six jet swim system. This unique system draws and drafts water from multiple points in the swim spa, providing a pure water flow with no air mixed in. This results in a strong, clear swim current that allows you to swim with ease and comfort.
Swimming in the Challenger 15D
The swim spa is powered by three motors, with two variable speed motors that provide a combination of pumps and speeds to make it possible for swimmers to get a great workout. This means that you can adjust the current to suit your individual swimming needs. The system has a top of pace of 1:20 per 100 meters, making it ideal for distance, endurance, and recreational swimmers.
Professional triathletes including Mirinda Carfrae, Tim O'Donnell, and Meredith Kessler incorporated this spa into their training. It was ideal for recovery swims, continuous swimming efforts, and technique work.
Hydrotherapy in a swim spa
A swim spa is also an excellent way to relax and unwind after a long day. You can use your swim spa for hydrotherapy when you have sore muscles or injuries from working out — or even just everyday aches and pains. The H2X Challenger 15D has multiple therapy options, including the exclusive StressRelief Neck and Shoulder seat and Xtreme Therapy Cove. The hot tub jets deliver a relaxing massage to high tension areas, and contoured seating give you a place to relax and recover.
Using the touchscreen panel, you can adjust the water and air moving through the jets to get your preferred massage. The variable speed pumps that create the water current also power the hydrotherapy jets.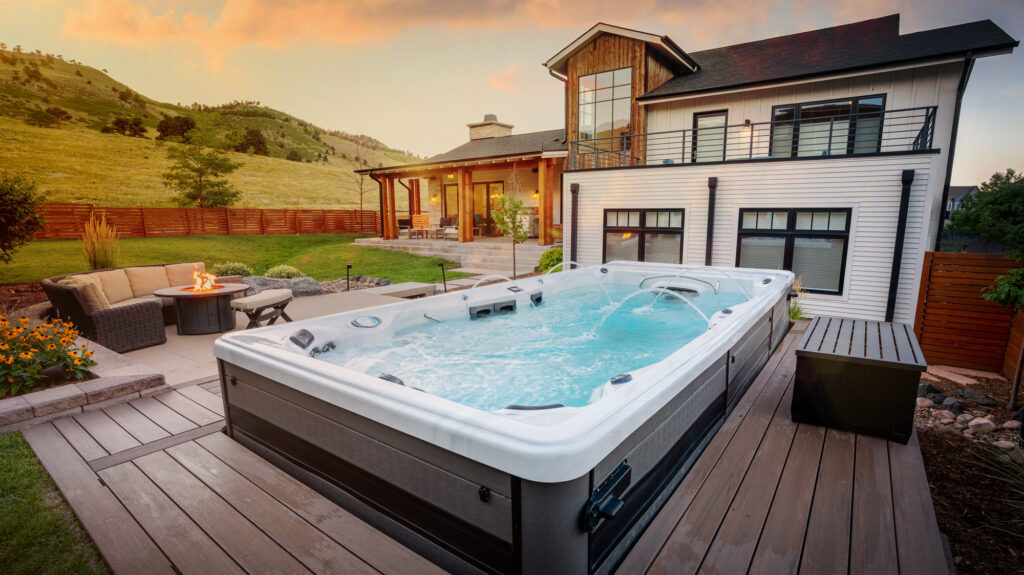 Meet the Challenger 18D Pro
"I can tell you straight away — this thing is amazing," Ben Hoffman shared after his first swim in the H2X Challenger 18D Pro.
The updated design and larger footprint provided the Arizona-based athlete with his best stationary swimming experience.
The 18-foot swim spa has three dedicated swim pumps, including two variable speed motors. An additional pump powers the hydrotherapy seats, including the exclusive Master Spas' StressRelief Neck and shoulder seat.
Dimensions and design
Most people will be able to swim comfortably in a 15-foot swim spa. However, taller swimmers might be more comfortable in an 18-foot model. The Challenger 18D Pro has an increased swim area and a water depth of about 51 inches.
But the increased length is not just about having room to swim all four strokes.
"I do feel that there is slightly less turbulence in the longer spa, and the water seems to circulate more smoothly," Hoffman says.
To maximize the water flow, Master Spas engineers relocated the pumps and returns. The design helps to increase the strength of the water current. The top-end speed of the H2X Challenger 18D Pro is 1:10 per 100 meter pace.
Swimming in the Challenger 18D Pro
Hoffman swam and relaxed in an H2X Challenger 15D before upgrading to the pro model. For Hoffman, who swims about seven hours a week as part of his full-distance triathlon training, the swim spa was ideal for recovery swims, kick sets, and aqua jogging against the current.
But the Pro changed how he trained in a swim spa.
"The added power with the dedicated VSP jets gives the Pro an edge when it comes to training at higher intensity for me," he says. "I am able to do some longer threshold swims that help me simulate my IRONMAN pace."
One of his favorite workouts to do in the 18-foot swim spa is a continuous swim effort with kick sets. An example would be to swim 5 minutes and then, using a kickboard, kick for 2 minutes. Repeat the set five times.
"Another favorite is to program a build swim that might look like five times 5 minutes where speed increases from 15 to 25 by 2 each minute."
Relaxation and family time like a pro
A unique feature of the H2X Challenger 18D Pro is the separate swim and therapy pumps. While it's a standard feature for dual-zone units, most others share pumps for hydrotherapy and water fitness.
What does that mean? The water is either moving through the swim jets or the hydrotherapy jets.
But with the 18 Pro, you can swim while your family relaxes.
"It has been helpful if my wife or kids want to "join in" for my workout!" says Hoffman, who is a father to two young children.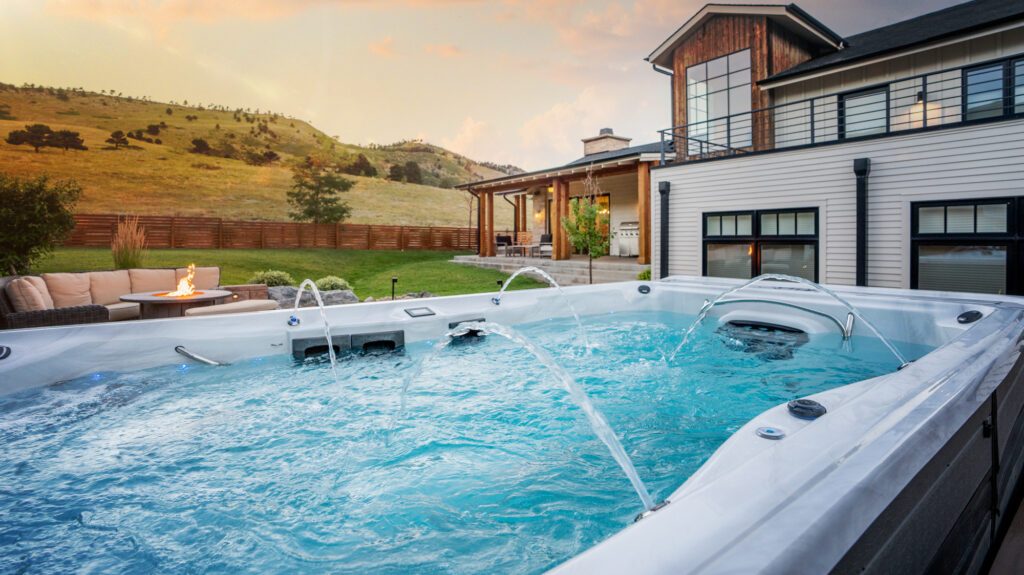 Which swim spa is right for you?
When choosing a swim spa, it's important to consider your individual needs and preferences, including the size of your space, your budget, and your desired features.
Comparing the Challenger swim spa models, it will often come down to pace and your athletic goals. Faster swimmers and those who want the swim spa to be the centerpiece of their training might prefer the Pro version. This 18-foot spa might also be the best option if you or someone in your household is taller than 6-foot-2.
Recreational athletes, weekend warriors, or those who want an at-home swimming option will love the quality and versatility of the Challenger series.
"Having a tool like the Challenger 18D Pro that produces endless fun for your family and friends, but also gives you all the power you might need in your swim workout is the pinnacle," Hoffman says.
"However, take a look at your goals, swim pace, and experience while deciding. They are both amazing options depending on what you are looking for."
How to buy the best swim spa
Do you want to be able to swim, exercise, and relax at home? Having a Master Spas swim spa allows you to swim on your schedule while adding a fun factor to your backyard. You can click here to find out more about the benefits of hydrotherapy and relaxing in a hot tub. Or, contact your local Master Spas retailer to learn more about swim spa ownership. Wondering how much a swim spa costs? You can request a quote here.