Dave and his wife enjoyed the benefits of living in a planned community. There were beautiful common areas, lawns were well-maintained, and there was a sense of community. And whether they were sitting on the patio or standing at the kitchen window, they were treated to a picturesque view thanks to a nearby pond.
But for all that the neighborhood offered, there was one thing lacking: backyard space.
A backyard is an extension of your indoor living space. It's a place where you can relax, entertain, and spend quality time with your loved ones.
However, you don't need a large backyard to have a space that you love.
From thoughtful landscaping to a Master Spas swim spa, Dave and his wife designed a true backyard oasis. The design maximized the space they had while enhancing their quality of life.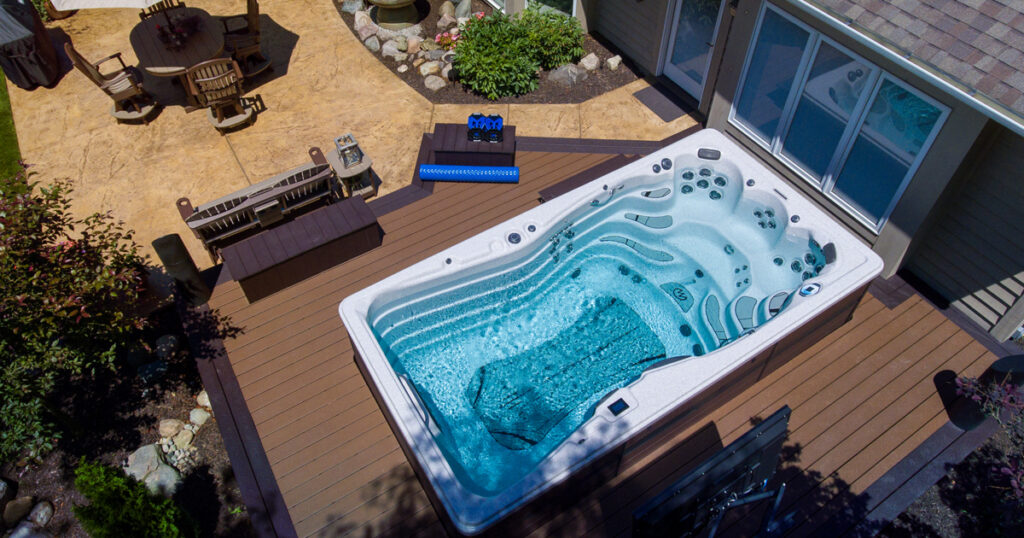 Small backyard design tips
Designing a small backyard can pose some challenges, but with some creativity and planning, you can create a space that you love.
Some common obstacles to designing a small backyard include limited space, uneven terrain, and lack of privacy.
But the key is to see the challenges as opportunities.
Assess your space
Measure your backyard and take note of any obstacles such as trees, bushes, or uneven terrain. For Dave and his wife, they had to account for a slight slope in the yard and tall trees. It was also important for them to consider how a swim spa would fit into your backyard design.
Add a focal point
Whether it's a water feature like a Master Spas swim spa or a vibrant garden, a focal point can help draw the eye and make the space feel larger. You can use elements like lighting, color, and texture, to enhance your focal point and make it stand out.
Think up
The vertical space in your small backyard can be used for trellises or hanging planters. Tall plants and decorative screens not only draw the eye up but create privacy, blocking the view from neighboring properties.
Zone out
Dividing your small backyard into different zones can help maximize the functionality of the space. Consider creating separate areas for cooking, dining, lounging, and gardening. Use planters, furniture, and lighting to define each zone and create a sense of flow.
Creating a small backyard oasis
Dave and his wife had an outdoor deck but the addition of the swim spa helped take their backyard to the next level.
The couple had some concrete work done, added outdoor speakers, and invested in a weatherproof television.
"Our backyard has turned into an oasis with the swim spa," Dave says.
With a Master Spas swim spa, you can enjoy the benefits of a traditional swimming pool in a much smaller space.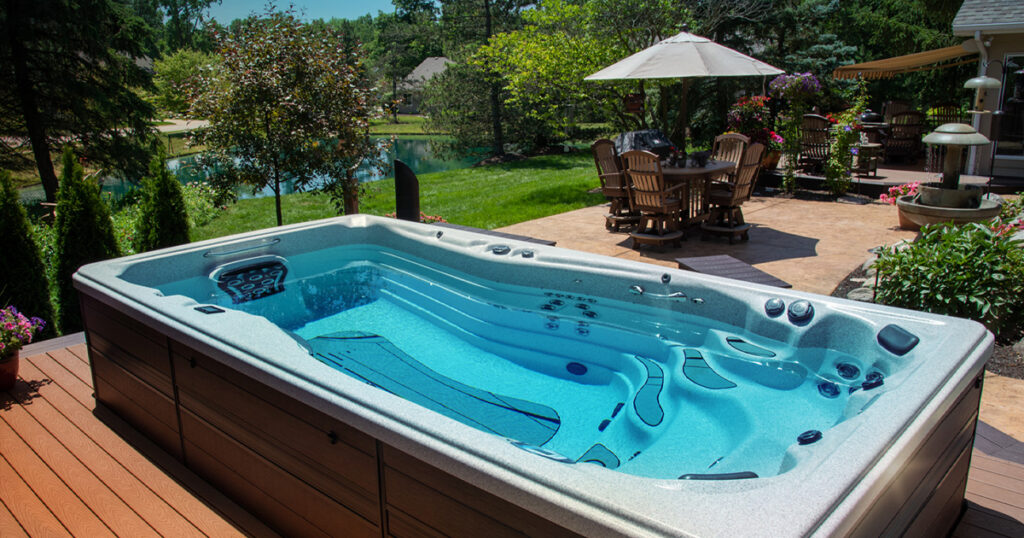 Choose the right swim spa
When choosing a swim spa, consider the size of your backyard and your personal preferences. Swim spas come in a range of sizes, so it's important to choose one that fits your space. You should also consider the features that are important to you, such as the swim system, lighting, and energy efficiency.
Dave and his wife chose an H2X Challenger 15D by Master Spas. This 15-foot swim spa has six airless swim jets, which create a current in the water. You can enjoy a superior stationary swimming experience or jog against the current. The Challenger 15D also has a range of hydrotherapy options, including the Xtreme Therapy Cove and exclusive Stress Relief Neck and Shoulder Seat.
Among the features Dave enjoys is the ability to use the swim spa for physical therapy exercises. He can improve his strength and mobility without the aches and pains that can come with age.
Incorporate landscaping
Landscaping is an important part of any backyard design. Even with a small space, you can create a beautiful and functional landscape design. Consider using plants and flowers that thrive in your climate and require minimal maintenance. You may also want to add some decorative elements, such as statues or fountains, to add visual interest to your backyard.
This small backyard oasis features lush perennial bushes and a mature clematis that climbs up a trellis. Rocks provide texture and interest to the landscaping bed.Smaller annuals in pots, too, are arranged along the concrete patio.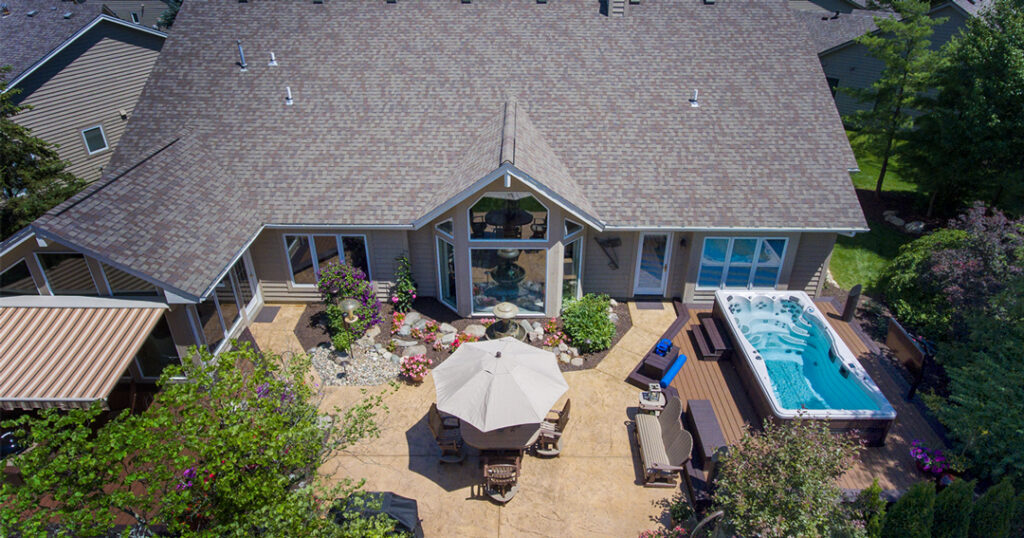 Create a seating area
A seating area is essential for any backyard design. Even with a small space, you can create a cozy seating area that is perfect for entertaining or relaxation. Consider using outdoor furniture that is comfortable and durable, such as weather-resistant chairs and tables.
Dave and his wife created multiple seating areas in their small backyard. A large outdoor table with an umbrella is ideal for dining alfresco. There are also outdoor couches, protected by a large sun shade. And if you need somewhere to dry off after a dip in the swim spa, a composite bench provides comfortable seating.
Add lighting
Lighting is an important aspect of any backyard design. It can help create a warm and inviting atmosphere, and also provide safety and security. Consider using a variety of lighting options, such as solar lights, string lights, and landscape lighting.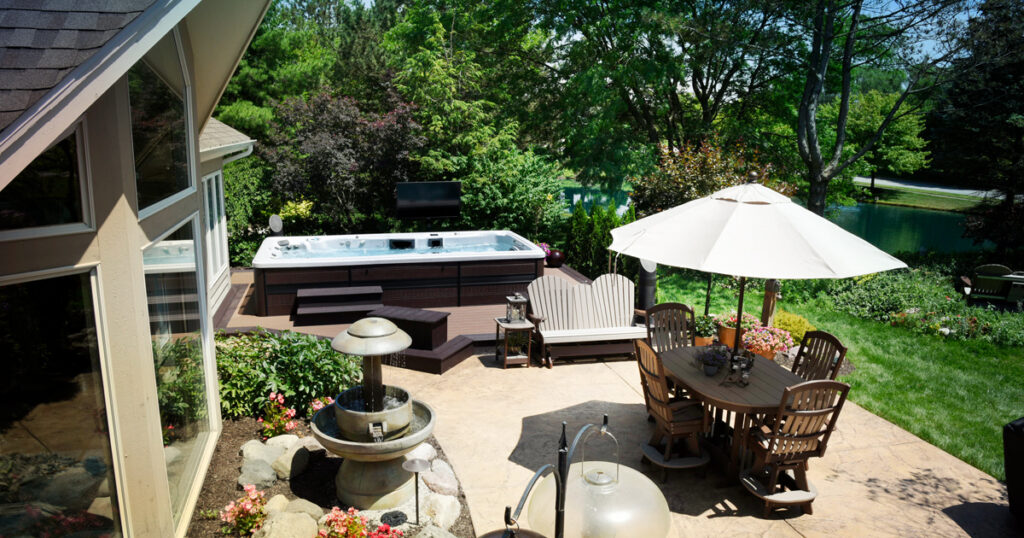 Movement patterns
When planning your small backyard makeover, one of the key elements to consider is how people will move around your patio. Where will they exit the house? Where will people be congregating and how will they get there? Are there going to be children sharing the space?
For instance, if you love to entertain and dine outside, make sure there is a clear path from your home's entrance to your outdoor dining table. Afterall, you want to make sure you have enough room to carry that platter of burgers.
This backyard might be small but has plenty of room to move and enjoy the different "zones." Dave and his wife can safely walk from the patio door to the lounge furniture to the swim spa. When family visits, there's room for children and adults to enjoy the space.
A Master Spas swim spa is an excellent investment for homeowners like Dave who want to maximize their small backyard space. It offers the benefits of a pool and a hot tub combined, making it perfect for relaxation, exercise, and entertainment.
With its compact size and versatility, a swim spa can fit into almost any backyard, providing you with a great way to enjoy the outdoors and improve your health at the same time.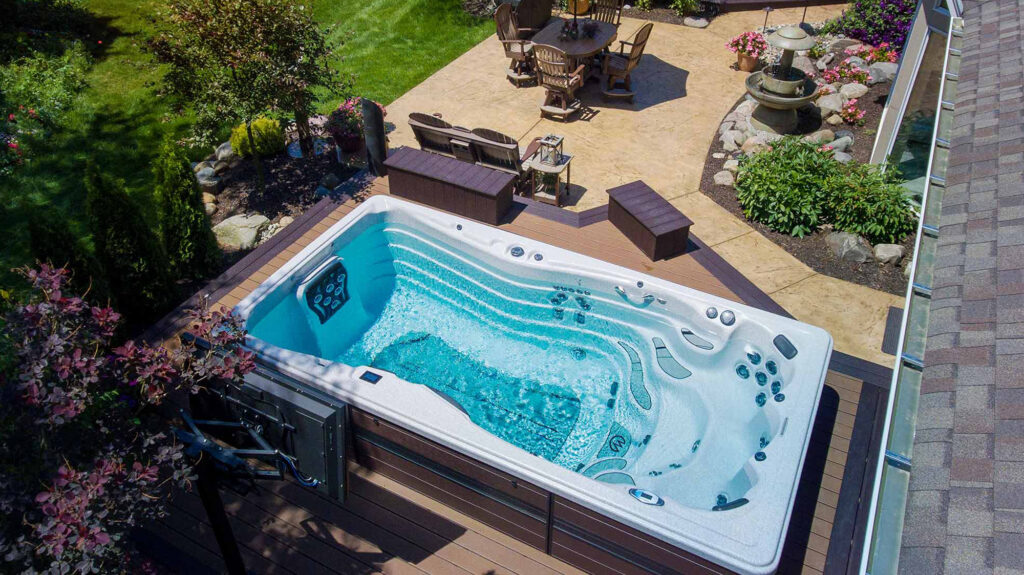 How much does a swim spa cost in 2023?
Do you want to be able to swim, exercise, and relax at home? Having a Master Spas swim spa allows you to swim on your schedule while adding a fun factor to your backyard. You can click here to find out more about the benefits of hydrotherapy and relaxing in a hot tub. Or, contact your local Master Spas retailer to learn more about swim spa ownership. Wondering how much a swim spa costs? You can request a quote here.