A resident of Ottawa, Canada, William initially purchased an H2X Fitness Swim Spa so that he could stay active and recover from hip replacement surgery.
But the personal trainer and fitness coach quickly realized that his Trainer 12 was going to be more than a place where he could rehab after his procedure. The swim spa would be a year-round escape for him and his wife.
William and his wife bought the swim spa in June 2016 and use it nearly every day, even during the coldest winter days and the hottest summer spells.
Ottawa, a city in the Ontario province, is west of Montreal and not too far from Vermont and New York for those familiar with the United States. Winters in that part of Canada can be severe, with snow on the ground an average of 120 days in a year. The temperatures can plummet to below zero and feel colder with the wind chill. The summers are humid, and the average temperature is around 80 degrees Fahrenheit.
But William, who is detailed oriented, did his research before buying an H2X Fitness Swim Spa. Not only did he make sure the backyard that could accommodate the Trainer 12 but it would welcome him and his wife 365 days a year.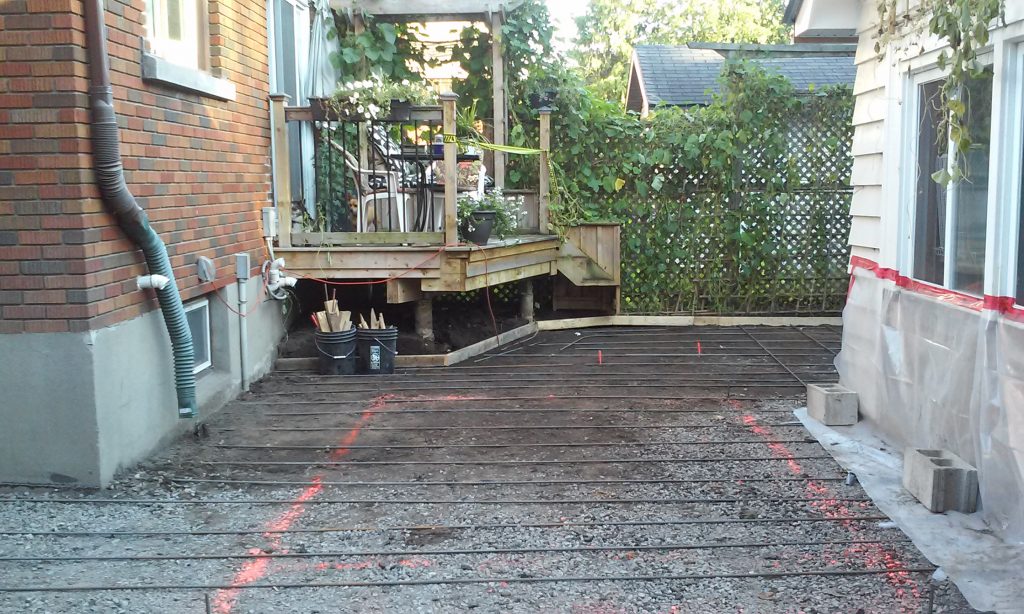 Preparing the Space
We installed a stamped concrete patio that was reinforced with rebar with specifications of 40,000 pounds per square inch. To prevent water damage to our house and gym, we had the concrete company set up five different grades to ensure that all water (rain and snow) drained away from the house, swim spa and our gym. We love the patio because it is extremely easy to keep clean, and it keeps people from tracking in dirt and leaves into the swim spa.
Backyard Solutions
"I did some research before we purchased our H2X Trainer 12, as well as saw how some of our friends and family used their spas. I made sure to get a four-season gazebo as many friends had said they stopped using their spas during bad weather. Rain, dust, leaves, etc. also messed up their spa chemical balances. In addition, many said the sunlight caused a lot of damage to their spa covers, and it was really unpleasant to go into their spas during bad weather.
"We do not have any of those problems with our four-season gazebo. It really makes a huge difference and makes it pleasant going into our swim spa — regardless of the weather. Our gazebo has a clear plastic roof, which lets in a ton of light and sounds fantastic when the rain is pouring down."
Year-Round Use
"My wife and I use the swim spa pretty much every evening and have since June 2016 when we got the swim spa — even during the hottest days and the coldest days. The coldest one we had in Ottawa with the wind chill was about -40 degrees Fahrenheit! In the summer, we also use it during the hottest days to cool down when it's above 90 degrees Fahrenheit, allowing allows us to stay outside in our backyard without feeling the heat or humidity."
No Appointment Necessary!
"In Ottawa, if you want to go to a regular 'spa,' you have to book your appointment, travel to the spa (which is 30 minutes one way for us), respect the spa rules, buy extras while you are at the spa and then have to travel home. Because we own our own swim spa, we do not have to do any of those things.
"We can go in it, however we like and whenever we like. Sometimes our day is so crazy busy that we end up going in our swim spa at 1 or 2 a.m. We couldn't do that at any spa company in the region. Having our own swim spa is amazing! Go in at any time and however you like!
"We did the basic math for our area, and it would cost us $3,000 a month to go to a local spa. We more than make up the cost of our swim spa when you consider the 10 to 20 years that we will own it."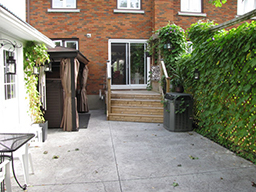 Swim Spa
with a View
"For privacy and relaxation, we have built lattice fences around our yard and swim spa. In the summer, we plant a ton of Morning Glories. The flowers grow quickly in the summer and create a living wall of beautiful leaves and flowers, which makes our swim spa feel like an oasis that you might find at the best spa resorts. The fence also doubles as a barrier from the elements — wind, rain and snow — which protects the gazebo and allows us to go into our swim spa during the worst storms. We also attached lanterns, and the glow of the natural candles casts a beautiful light and shadows for a romantic evening in the swim spa."
Swim Spa Maintenance
"Once we figured out best proper chemical balance and heat settings for us, our costs for electricity is about $50 a month (even in the coldest months) and about $30 to $50 per month for chemicals. The high range is when we replace the water (about every three to five months). The filters are a bit pricey, but we have two sets, which allows us to go through a full year, so that is OK. They are easy to maintain/clean and really keep the water clean and clear."
Making Time to Relax
"My wife and I like to use the swim spa for hydrotherapy and just unwinding after a really busy day of being physical. I coach rope jumping, gymnastics, trampoline, martial arts, personal training, cardio kickboxing, etc., and my wife and I also teach ballroom and Latin dancing. It is a really nice time for us to come together as a couple and to just relax and emotionally and physically detox from all of life's stresses."
Do you have a success story that you think should be shared? Email the Master Spas Marketing team at howto@masterspas.com. We would love to hear from you.