A swim spa by Master Spas is a fantastic alternative to the backyard swimming pool that allows you to swim, exercise, and relax year-round — no matter the climate. In our recent Facebook Live event, Master Spas' Ben Gilliam and Mari Cuticelli highlighted the best-selling swim spas and how to find the best one for you.
Gilliam and Cuticelli, who are IRONMAN coaches and athletes, took viewers inside the Master Spas showroom to go under the surface of what sets these swim spas apart.
In case you missed it, here's are the highlights of our swim spa comparison:
Michael Phelps Signature Swim Spas
The swim spa that started it all, Michael Phelps models are ideal for competitive swimmers. The water current, which is created by a propulsion system, is smooth and wide. The Wave XP system on Michael Phelps models provides the fastest water current, capable of a swim speed of 1:05/100 yards. You can adjust the speed, from zero to 100, using the digital control panel.
The Momentum Deep is a dual-temperature swim spa, which has a generous swim area and a separate hot tub with therapy seats. The therapy side includes two Master Blaster Foot Massage Jets.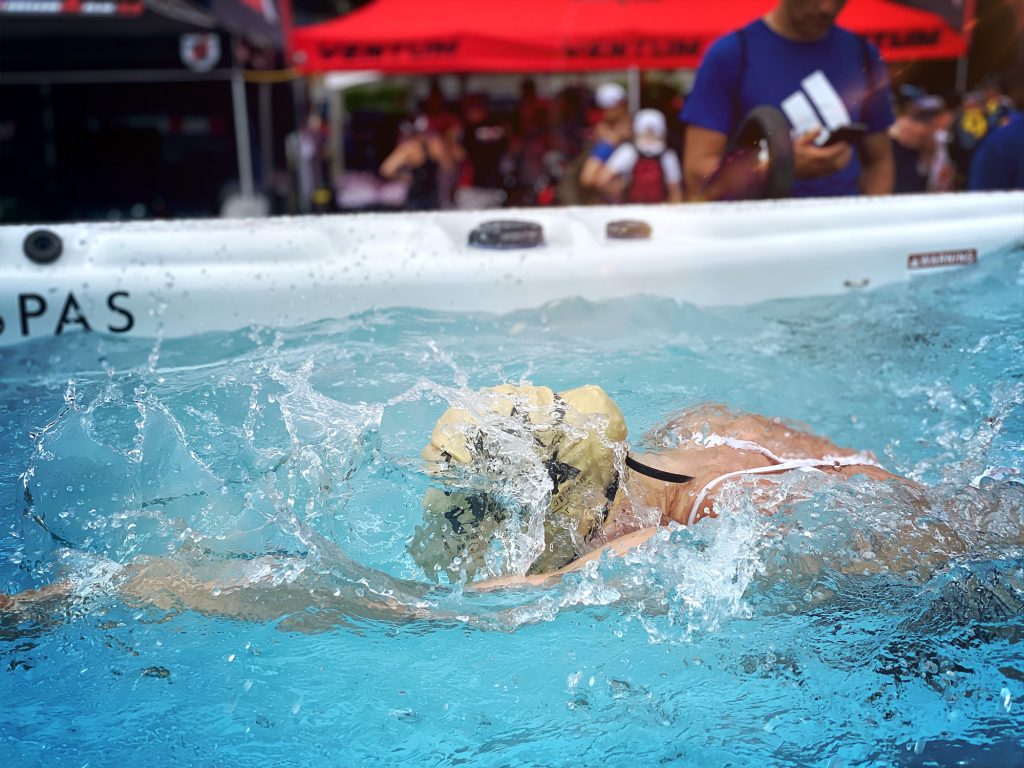 The best-selling swim spa, the Trainer 15 Deep features a two-pump air injected system. Recreational swimmers and exercise enthusiasts can enjoy a leisurely swim without the need for a tether. Swimmers who want to swim a particular pace can expect an approximate max speed of 1:45/100 yards. H2X Trainer series swim spas are also fantastic for aquatic exercise and rehab and family fun.
The Challenger series is the newest in the Master Spas line-up, and it changes the swim spa game. The series is the best of both worlds, featuring an airless jet system to create the water current. Less air allows for a smoother water current with better visibility, and three pumps create a wider path for swimming. The swim spa was designed to bridge the gap between the traditional jet system and propulsion units. The variable speed system, which can go from zero to 25, can reach a speed of about 1:20/100 yards.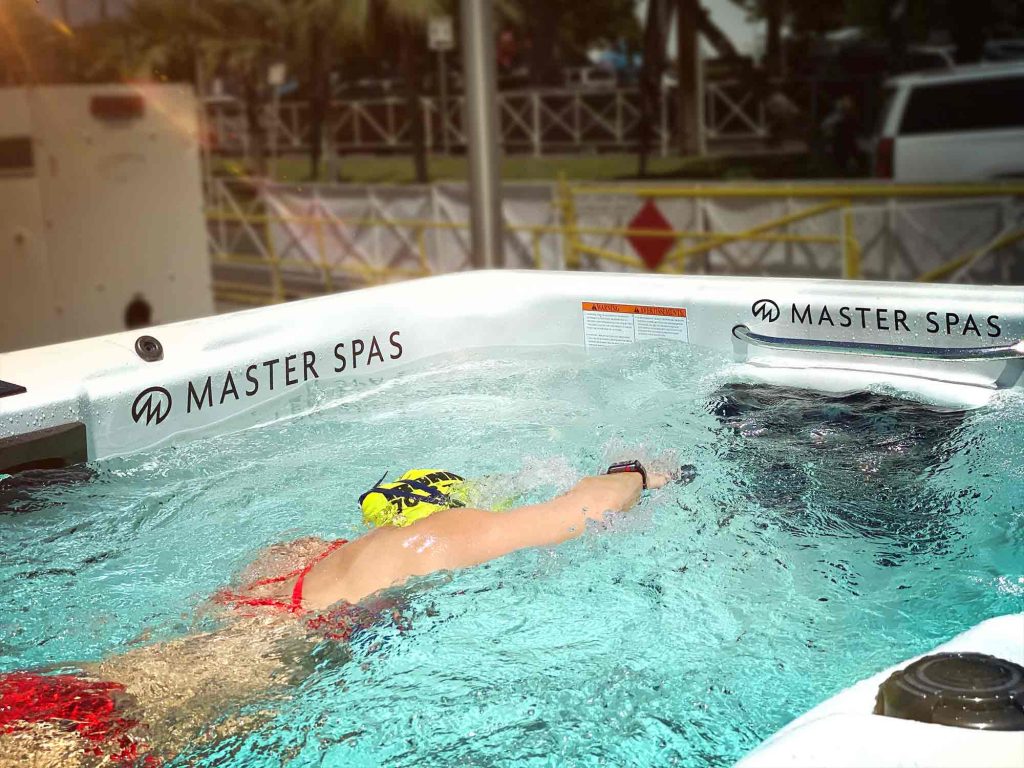 Swim Spa Questions
What is the best way to centered while swimming in the swim spa?
Swimming in a swim spa can highlight any muscle weaknesses or imperfections in your stroke. Strengthening the stabilizer muscles and your core can help you stay centered in the water current.
What is the best kind of chlorine to use for balancing swim spa chemicals?
Dichlor Spa & Pool Sanitizing granules
Can a swim spa be installed on an existing patio?
Yes! A swim spa requires a large, flat surface that can withstand the weight of a filled swim spa. A concrete pad is ideal but a professionally installed paver patio or reinforced deck are other installation options. For more details, you can download the Backyard Planning Guide and explore swim spa installations.
If you are interested, you can also schedule a site inspection with your local dealer. You can use our dealer locator to get more information.
Are swim spas saltwater or chlorine only?
Salt systems might work for a pool but swim spas by Master Spas use a mineral filtration system. The mineral filtration system, which does require regular use of chlorine granules, is a better fit for swim spas. A saltwater system will corrode components and void your swim spa warranty.
Does insurance cover the cost of a swim spa?
Master Spas and its dealers cannot process paperwork for a swim spa or hot tub. You will have to work with your doctor and insurance company to see whether that is a possibility.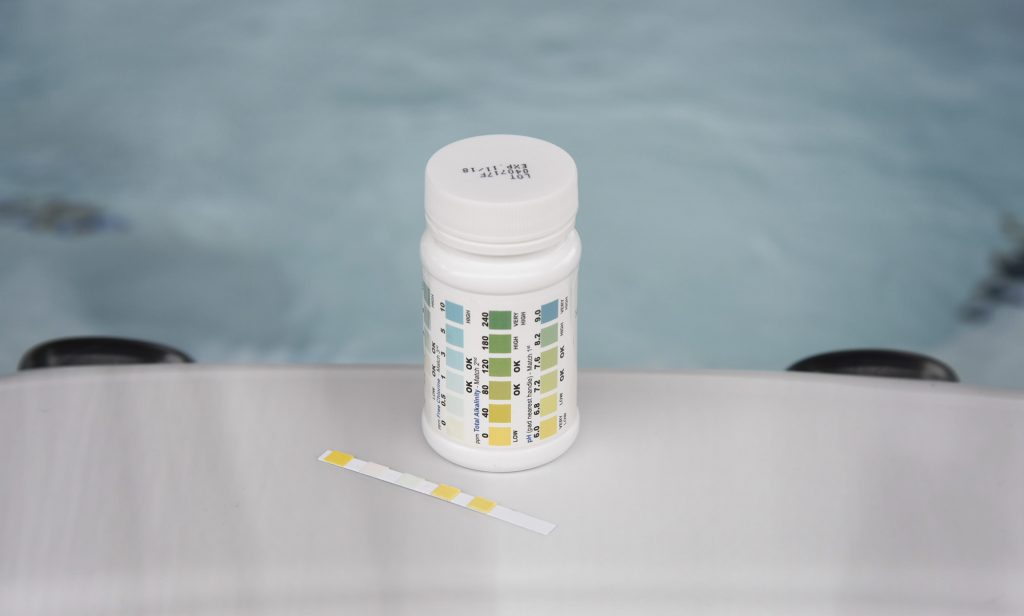 How easy is it to care for a swim spa? Do you get a water care manual with your swim spa purchase?
A swim spa is less maintenance than a pool but owners should expect to perform regular care, such as balancing the water and replacing filters. Every swim spa by Master Spas comes with an owner's manual, which details the best way to maintain your swim spa.
Master Spas also has quick tip and how-to videos on its YouTube channel that owners find helpful.
Is it possible for two people to swim in a swim spa at the same time?
Master Spas designed its swim spas to be used by one swimmer at a time. However, families can enjoy the pool alternative while one member swims. The contoured therapy seats offer a place to relax and take advantage of the adjustable massage jets.