Work, school, restaurants — much of our daily activities have been canceled as we practice social distancing and shelter from home.
But there's one thing that has not been canceled: the outdoors.
With the rapidly changing situation, it can be hard to look away from screens. But a daily dose of Mother Nature can offer some much-needed solace, respite, and rejuvenation.
According to the EPA, a survey of 9,000 Americans found that 87 percent of people were spending time indoors. Studies have concluded that there is a higher rate of depression associated with lack of outdoor time.
Taking a moment to grab a breath of fresh air can boost your serotonin levels, alleviate stress, and give your brain a chance to unwind. Those are some things we could all use right now.
"Everybody needs beauty as well as bread, places to play in and pray in, where nature may heal and give strength to body and soul."

— Naturalist John Muir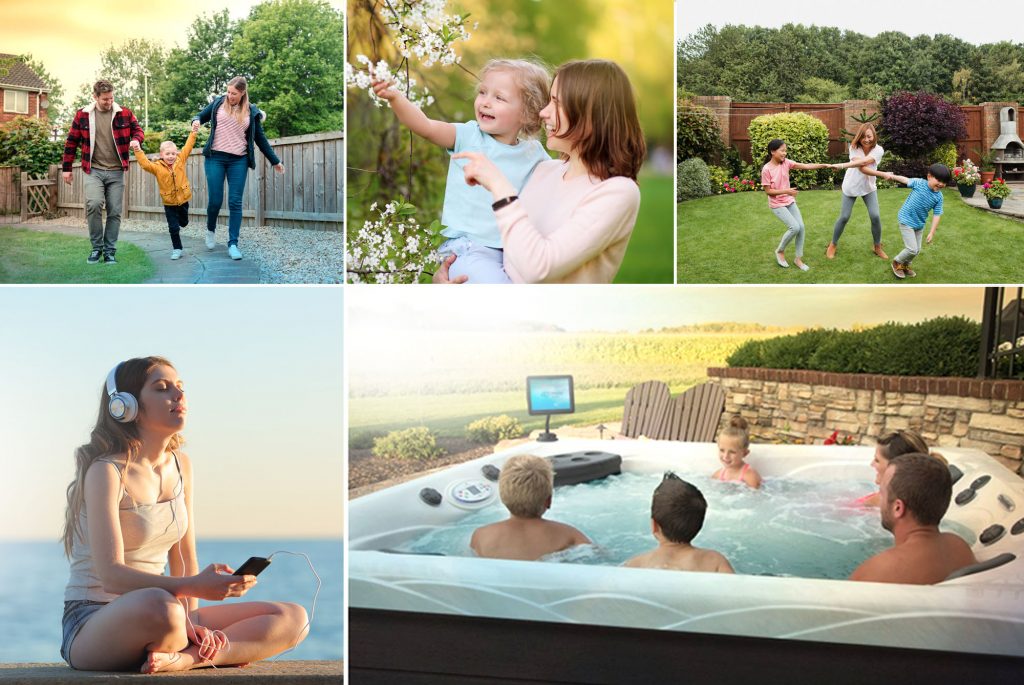 7 Great Ideas for Outdoor Family Time
Garden Walk
When was the last time you evaluated your outdoor space? Spring is here, and there are flowers starting to bloom. This down time can be an opportunity to see what perennials you have, whether there are any holes, and areas that you want to improve. Spend a moment taking it all in, even sketching a map, as you walk around the space. Snap some photos of the places that need attention and explore backyard ideas.
Bust a Move
Research shows that listening to music can boost a person's mood. Turn on your favorite playlist and have a dance party in your backyard. Take your shoes off and feel the grass beneath your feet. Or, take a cue from Aqua Zumba and have a dance party in a swim spa by Master Spas. Put a waterproof speaker near your spa and put on an upbeat playlist. 
Stream a Workout
It might be difficult to get to the gym right now. However, exercising can be an important component of self-care during this time. There are many virtual workout options that allow you to break a sweat without breaking social distancing rules. You can set up your phone or tablet outside and stream a workout. Triathletes can move their bike set-ups and take on Watopia.
Or, if you have a swim spa, use the table mount to stream exercises from Master Spas' video library.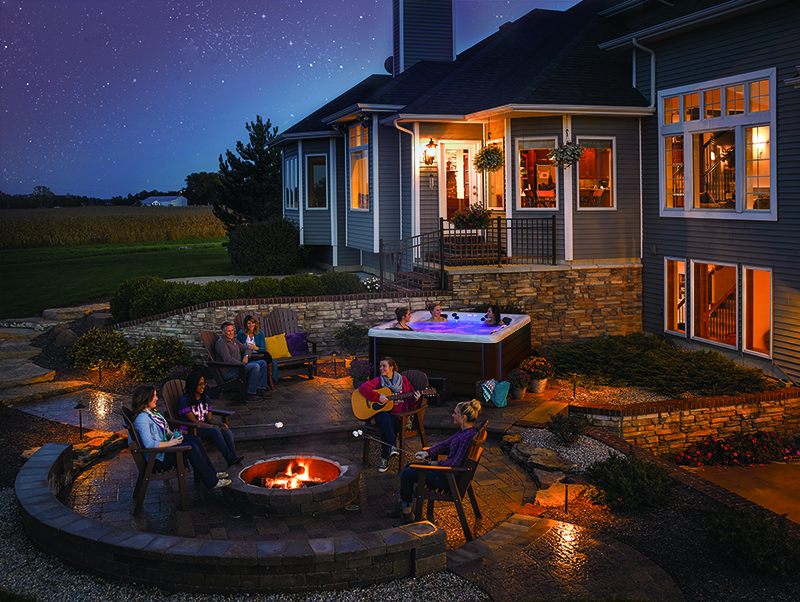 Star Sightings
We might not be headed to the theater to see our favorite stars but you can head outside to see the stars. If you are working with school-age children, spend part of the day on an astronomy lesson and then camp out in the backyard after dinner. Have the kids point out the constellations and make up stories to go along with them.
Even if you don't have young family members at home, it can be relaxing to gaze at the night sky. If you have a Master Spas hot tub, you can use the Wi-Fi module to turn on the pumps and set the temperature. The combination of night sky, warm water, and massage jets might be magical.
"Nothing beats getting into a hot tub, looking up at the stars, and releasing the stress out of your body after being inside most of the day!"

— Florence, New Mexico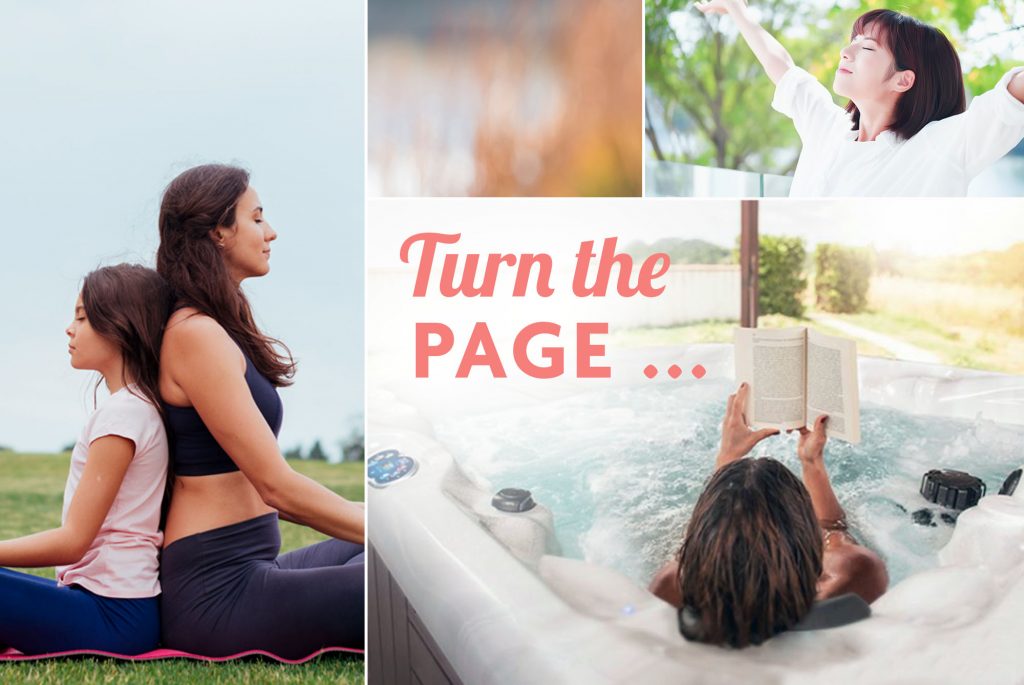 Take a Deep Breath and Stretch
During this time, it can be a good practice to check in with yourself. How are you feeling? Do you feel stressed? Are you carrying tension in your neck and shoulders?
Incorporating elements of yoga can offer myriad benefits, from decreased anxiety to reduced inflammation. According to a 2016 study, "yoga practice may help to improve systemic health of patients, reduced depression and anxiety, and cause better wound healing."
Many yoga instructors offer an outdoor practice as weather permits. And while you might not be able to gather with your friends, you can still enjoy the elements. Unroll your mat on the patio or practice barefoot on the grass.
Another option is to take advantage of water's natural properties and stretch in a hot tub or swim spa. Alternate between sitting in the hydrotherapy seats and stretching in the main spa area. The warm water will allow you to achieve a better range of motion and relieve tension.
Related post: 10 Stretching Exercises for Your Hot Tub
Turn the Page
A book is a great way to escape reality, and a light summer read could help you feel like you are on vacation. While there's something to say for curling up and reading a book on the couch, you can read outside. Maybe you have a hammock or outdoor couch, where you can curl up with a tablet. (Digital versions may be the best alternative as some libraries are closed!) If you choose an audiobook, you can stream it via Bluetooth so you can enjoy it as you relax in your Master Spas hot tub or swim spa.
Regular Maintenance
If you are a hot tub or swim spa owner, the time at home could be put to good use. Reference your owner's manual and perform any regular maintenance that your spa requires. Shock the water, rinse the filter, clean the spa cabinet.
Other outdoor maintenance to consider: Sweeping out the patio, scrubbing down your patio furniture, replacing outdoor lighting, putting a fresh coat of stain on your deck. In the end, all of the spring chores will create an inviting outdoor living space that you'll want to enjoy now and beyond.