Spring break might be best spent on the beach. Swimming, building sandcastles, and just enjoying quality time with friends and family. But if you had to put your plans on hold, you can bring the fun of a spring break trip to your very own home.
You can replace your itinerary with activities and adventures inspired by your favorite vacation memories. Or, create new memories with creative projects that help turn your backyard into a year-round destination.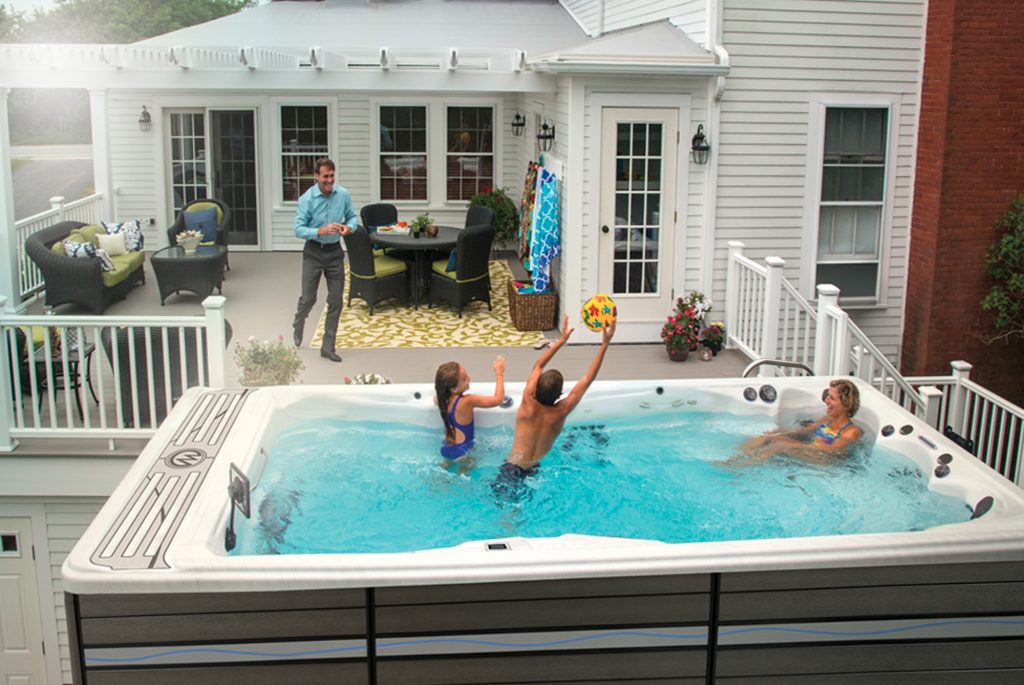 At-Home Spring Break Ideas
Start (and finish) a home project
OK. Work was not likely part of your plans but taking advantage of a week at home can make the coming weeks and months more enjoyable. Consider refinishing your deck or preparing your space for a swim spa by Master Spas. Put a fresh coat of paint on your porch or build a fire pit. Other ideas include creating an outdoor kitchen space, creating a space for tools, and refinishing vintage lawn chairs.
Build the Perfect Pain Cave
Pain cave? The phrase might not sound like something you want to add to your living space. However, a pain cave — or home exercise area — can make getting in a workout more convenient and make it easier to stick to a routine.
The equipment you need will vary based on your goals. For general fitness, consider investing in a mat, resistance bands, and three sets of dumbbells (light, moderate, and heavy). Triathletes will want to consider a treadmill and at-home bike setup.
A swim spa by Master Spas is also a fantastic addition. For swimmers and triathletes, it brings the pool to your backyard. No more crowded lap lanes or long drives.
It can also be a fitness solution for those who are new to exercise or struggle with the stress of land-based exercise. Walk, jog, or exercise against a gentle current or take advantage of the H2Xercise System, which is complementary with every swim spa purchase. The kit includes rowing bars and resistance bands.
Related post: Functional Fitness for Everyone: Water Exercises to Live Better
Get Fresh
All-inclusive resorts in tropical locales are known for indulgent buffets. Among the pastries and cocktails, guests will find platters of fresh fruit and vegetables. Papaya, pineapple, citrus, and more are artistically cut. Freshly squeezed juices, too, can be found next to the coffee. As you prepare for your day in the sun and sand, you might find yourself eating new things that don't just taste good but make you feel good.
Take a nod from your favorite trip (or look up some photos for inspiration) and create a buffet of fresh produce. It will keep you fueled for days of fun and make healthy snacks convenient for your family.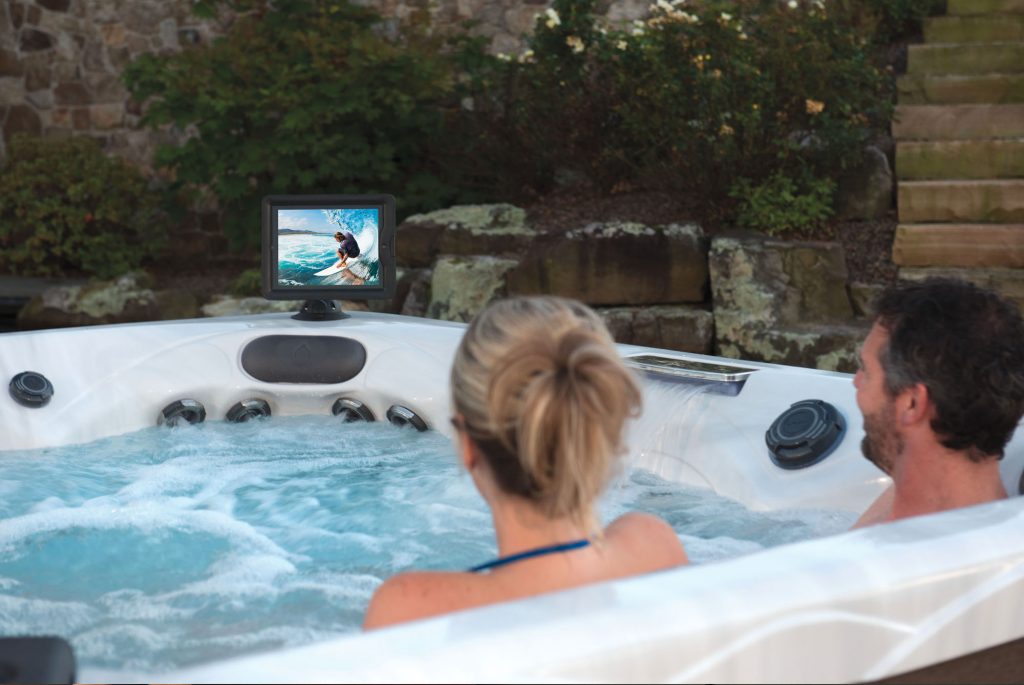 Watch a Classic Beach Movie
Create some spring break vibes and excitement for summer by showing your favorite classic beach movies and campy summer flicks. You can head to the ballpark and the shores of Cape Cod with "Summer Catch" or go "Back to the Beach" with Frankie Avalon and Annette Funicello. Maybe you are up for a game of "Beach Blanket Bingo" or would like to go to "Adventureland."
You can spread out a blanket on your family room floor or, if you have the set-up, create a drive-in screen on your garage. Swim spa owners can also use a tablet mount or install an outdoor TV for a new movie-watching experience.
Create a Splash Zone
Children and adults alike enjoy running into the water on vacation, whether it's for a swim or just to splash around. And while there might not be sand in your backyard space, you can bring the fun of the water to your backyard.
Weather permitting, play water games such as a sponge dodgeball, water limbo, or a balloon slip and slide. Your creativity is the only limit.
But if you are in a cooler climate, there's still water fun to be had. A swim spa by Master Spas is a year-round pool alternative that can serve as a family fun center.
Catch the Sunset
Sunset photos on the beach can be cherished memories long after you return. But you can enjoy the rich colors of the setting sun from your backyard. Take some time to set up some chairs and, if you have a fire pit, make some s'mores.
Sun's Out, You're Out
Depending on where you live, the weather might not be as warm and sunny as a tropical resort. However, you can still take advantage of the outdoors and soak up some vitamin D. On the lawn or patio, set up some lounge chairs in the afternoon and enjoy a refreshing drink.
Light Reading
There's a reason that airports have a bounty of books for sale. There's just something about turning the page of a light read while sitting on the beach. However, a book can help you escape to your favorite destinations without having to board a plane. Pick up a worn copy of your favorite book, order something new online, or listen to an audiobook. Relax in a lounge chair or float on a raft in your swim spa, even dipping your toes into the water. With an easy-to-use touchscreen panel, you can set it at the perfect temperature.
Turn Up the Tunes
A drive to the beach isn't the same without the perfect playlist. And while your walk to your lounge chairs is a bit different — and a lot shorter — you can still set the tone for a fun day with the right music. Our Spring Break at Home playlist has old favorites and new hits so that the entire family will enjoy singing along.
If you have a swim spa by Master Spas or are considering buying one, you can stream this playlist or other collections with your favorite waterproof speaker.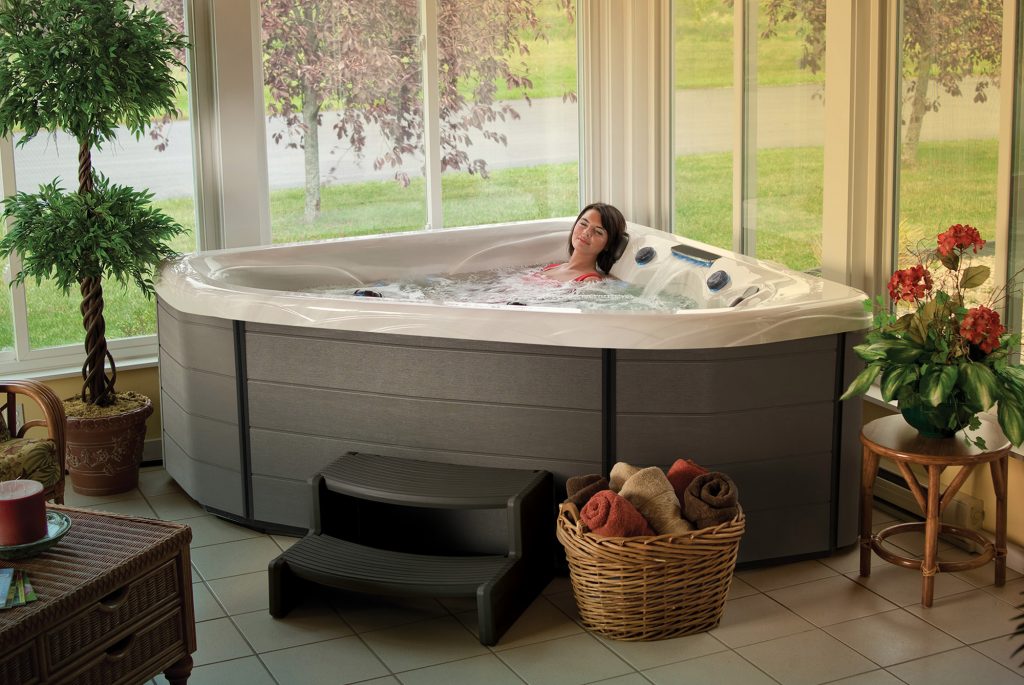 Pamper Yourself
Spring break can be a time of family fun but it should also be about relaxation. For some, relaxation might mean a spa day at the resort or getting a fresh pedicure. Even if you are spending spring break at home, you should still take time to pamper yourself. Do an at-home spa treatment, face mask, or make sugar scrubs for family and friends. Designate a quiet room and relax in a comfy chair as soothing music plays.
An in-person massage might not be on the itinerary but with a swim spa, you can enjoy a hydrotherapy massage. Adjust the pressure of the water so you get the massage you desire. The therapy seats have strategically placed jets that target your neck, shoulders, and back. Select models have Master Blaster Foot Therapy, which is good for your soles and soul.
Related post: Plan the perfect girls weekend
Plant a Garden
Spring break signals a change in seasons, and it's a perfect time to start thinking about your outdoor living space. Look at pictures of your space from previous seasons and evaluate which plants served the space well — and which ones didn't. Break is the perfect time to dig up lackluster perennials and make room for your favorite blooms.
As you make new selections for your garden, consider what colors will complement your house paint and any future plans. Do you hope to install a swim spa? Maybe you want blooming bushes that add color and privacy. Or you'd like to create a path with soft ground cover that is soft and colorful.
Re-Create Your Favorite Spring Break Activity
Does your family have a spring break tradition? Maybe it's playing carnival games on the boardwalk or stopping for ice cream at a beach-side stand. Re-create those activities at home and you'll have new memories and traditions. Set up fun games outside or make your own ice cream. Enjoy homemade Dole Whip or order dinner to be enjoyed al fresco.
Explore Your Neighborhood on Two Wheels
Beach cruisers are for just that — cruising the beach. And it's hard to deny the appeal of exploring a vacation destination on two wheels. During your spring break at home, you can get out your bicycle and cruise your neighborhood. Perhaps you ride to a nearby carry-out ice cream spot or check out a new-to-you section of town.
Plan for Summer or Fall
A spring break at home might not be what you had hoped for. But rest assured there are other trips in your future. Dream up your next vacation and plan out where you would like to go. You can even get a sneak peek at attractions with virtual museum tours and travel videos.