A pool might be a great way to add the fun factor to your backyard. But only if you want to limit your enjoyment to the summer months.
There is a way to turn your backyard into a year-round destination. A Master Spas swim spa will not only complement your landscaping but give you the space to relax, reinvent family time, and stay active — whether there's snow on the ground or the summer sun is out.
A swim spa can be installed above-ground on a reinforced concrete pad, partially in-ground, or recessed in a deck or concrete vault.
Choosing an in-ground installation will not only give you the look of a traditional in-ground swimming pool but allow you to complement your landscape design.
From custom decks with stunning views to modern patio designs, these swim spa backyard ideas show how you can transform your space where you can truly enjoy the outdoors.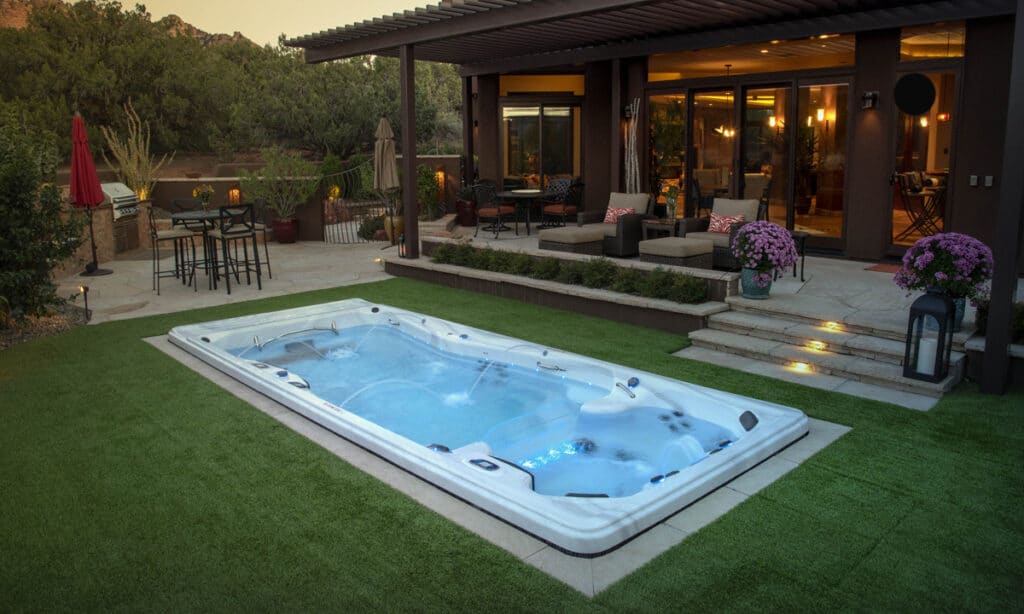 Installing an in-ground swim spa
Swim spas have a built-in water current system that allows you to swim in place. However, there are many advantages to a swim spa beyond the ability to train at home. Swim spas have an area for water exercise and recreation. In addition, there's contoured hot tub seating with massage jets for relaxation.
An in-ground swim spa, as you can infer, is installed in the ground. With thoughtful landscaping and hardscaping choices, you can create a space that complements your backyard.
But there are some considerations when choosing to install an in-ground swim spa.
Foundation: The swim spa will weigh several thousand pounds when full, so the surface on which it sits must be able to withstand that kind of weight.  
Drainage: The swim spa vault should have a way to move any stormwater away from the spa. The concrete pad can have a slight grade or you can opt for a French drain system.
Electricity: All Master Spas swim spas require a dedicated GFCI (ground fault circuit interrupter) electrical hook up. However, the specific amperage and voltage will vary from model to model. Be sure to reference the owner's manual for the electrical requirements and diagram. The breaker should be installed by a certified and licensed electrician.
Equipment access: When planning your swim spa fault, the plans should include a three foot space around each side of the swim spa. This space will allow for access to the equipment in the event your spa needs service.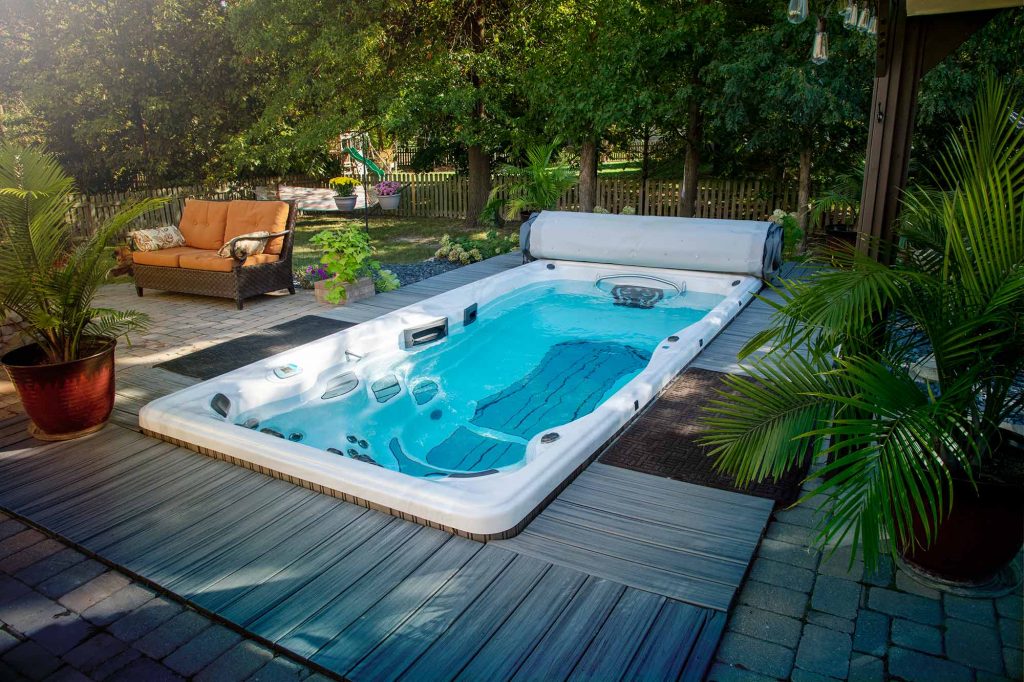 Our favorite swim spa backyard ideas
Swim spas are a fantastic way to bring fun, relaxation, and a touch of luxury to the comfort of your backyard. An in-ground swim spa will become the focal point of your space, making it easy to exercise, entertain, and spend time with family.
If you've been considering an in-ground swim spa, these customer backyards are filled with design inspiration.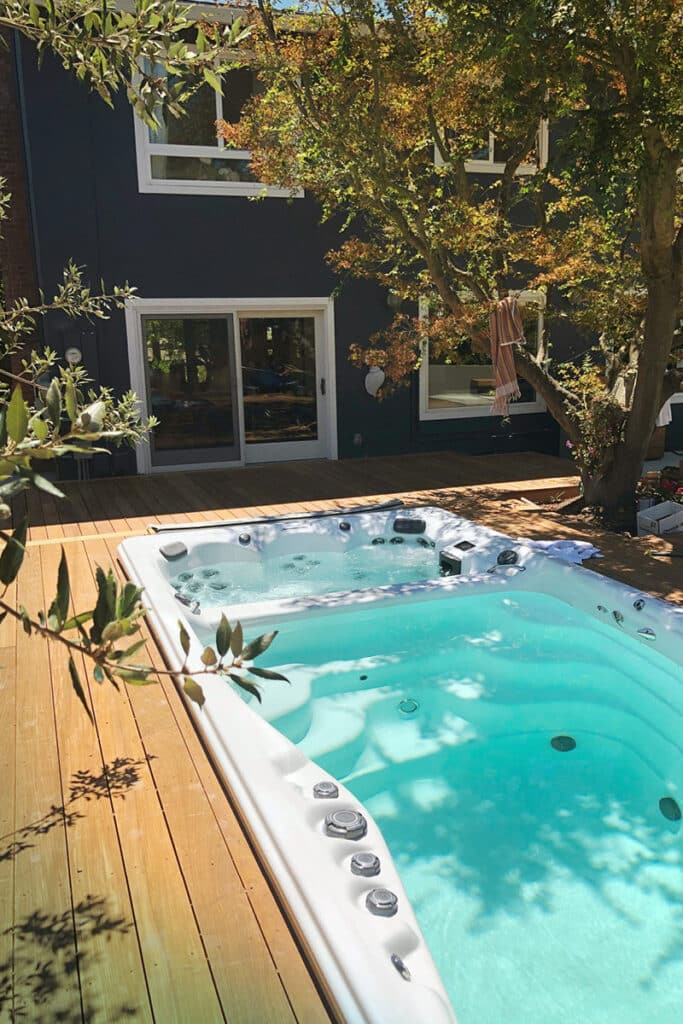 In-ground dual-zone swim spa
An in-ground swim spa can help you create a chic, retreat-style space. But what is a retreat without a place to relax?
The focal point of this outdoor living space is a dual-zone swim spa from Master Spas. A dual-zone swim spa has two separate bodies of water, one ideal for swimming, exercise, and recreation. There's a separate hot tub area with massage jets and a dedicated control panel. You can keep the water at a therapeutic temperature, up to 104 degrees. The swim area can have a lower water temperature for fitness.
It's important, though, to see the backyard as an extension of your outdoor living space. You want to have multiple seating areas for outdoor dining, entertaining, and quiet conversations. There should be space for lounging and living.
This backyard features a custom deck with multiple levels for interest. String lights and paper lanterns add to the ambiance. A privacy fence creates a space that feels comfortable and safe.
When designing the space and in-ground swim spa, the owners were mindful to play to the backyard's features. The deck was built around a mature tree, which provides shade for those enjoying the water.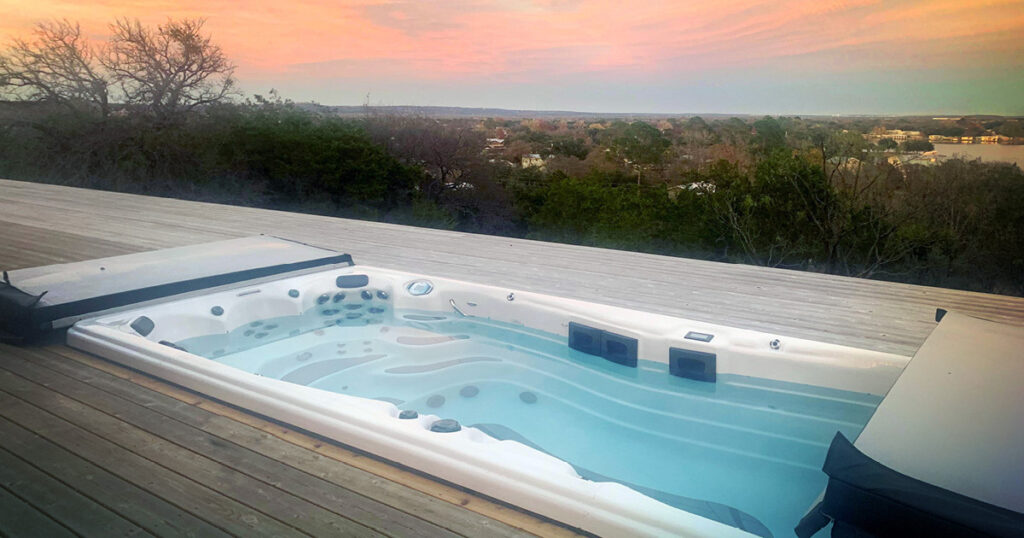 Swim spa installed on slope
One of the primary considerations of any backyard makeover is your actual backyard. While there are many areas that can be revamped during a landscaping project, the natural topography is often fixed.
However, you can use the natural topography into your advantage — just as these homeowners did.
A sloped backyard or a property with a large drop-off can feel limiting. But it was an opportunity for these homeowners to build a custom deck and install an in-ground swim spa. The large deck affords plenty of space for outdoor dining and entertaining.
The swim spa provides a relaxing element to the space. The homeowners can swim and exercise outdoors year-round or take in the stunning views of hillside and nearby lake from the hot tub seats.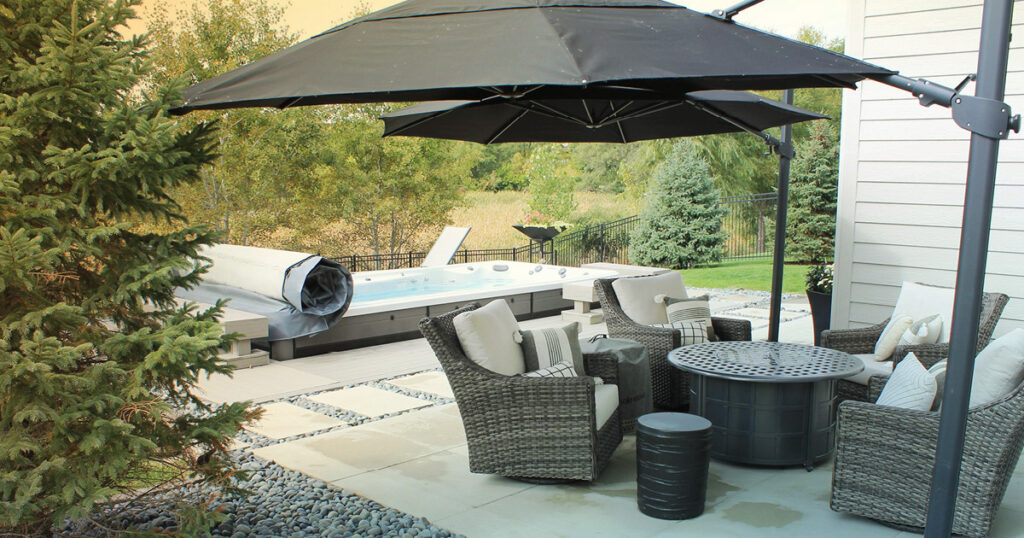 Cozy backyard swim spa ideas
Installing an in-ground swimming pool when you have a small backyard might seem like a challenge. However, with thoughtful design and a Master Spas swim spa, you can enjoy the best of a pool with the therapy of a hot tub.
With an extensive range of models, there's a swim spa option that can fit in most any backyard. The spas are 8 feet wide and range in length from 11 feet to 19 feet. Deep models, like this one, are 60 inches in height. But installed in a vault, the spa looks like it's a part of the landscape.
This cozy backyard has lush green grass but it's on a slope. An in-ground swim spa allowed the homeowners to maximize the available space. With the design, there was room for lounge chairs and custom benches near the spa.
Oversized pavers and river rock not only extend the hardscaping but add dimension and interest around the spa. The combination of a patio and deck . An iron fence allows the homeowners to enjoy the view of the adjacent woods while enhancing the overall style of the backyard.
The homeowners chose a rolling swim spa cover, which also maximizes the view. And with a slightly elevated bench, the cover has a spot to rest when the spa is in use.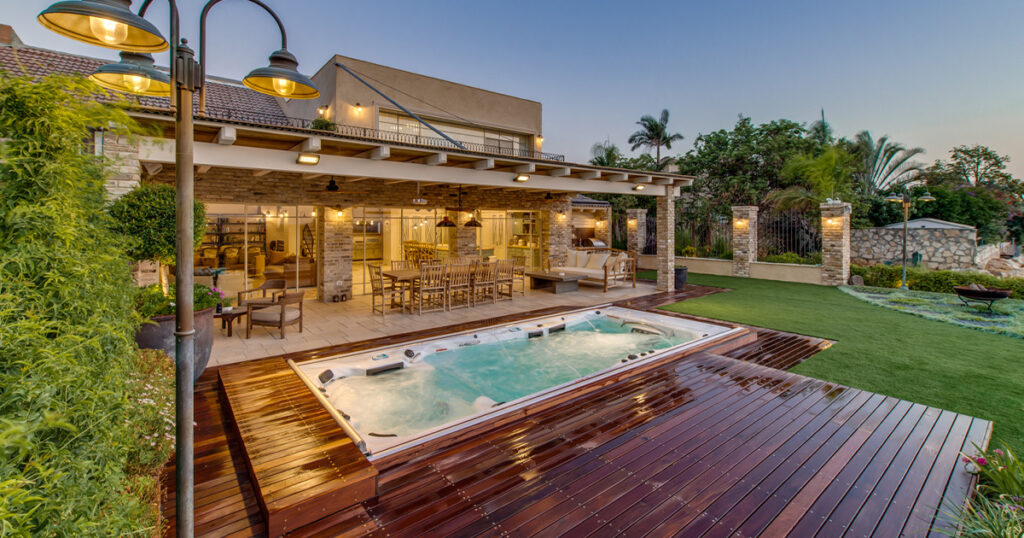 How to buy a swim spa
Do you want to be able to swim, exercise, and relax at home? Having a Master Spas swim spa allows you to swim on your schedule while adding a fun factor to your backyard. You can click here to find out more about the benefits of hydrotherapy and relaxing in a hot tub. Or, contact your local Master Spas retailer to learn more about swim spa ownership. Wondering how much a swim spa costs? You can request a quote here.