A phone is no longer just a phone — it's a connection. We can use them to FaceTime with family who live out of town, play games from home, and work remotely. But it's possible to become too dependent on our digital devices, mindlessly scrolling or zoning out on social media.
Picture it: You're hanging out on the couch with your family. Mom is checking her work email, Dad is texting a friend, and the kids are playing Among Us just a few feet apart from each other. You are together but not spending time together.
Families who are struggling with screen time could benefit from a digital detox. The screen-free time could help you ditch unhealthy habits, connect with each other, and promote overall wellness.
Sure, proposing a family digital detox might elicit groans — from adults and teens alike — but it will be worth it. With a plan (and a swim spa by Master Spas), you can turn the complaints into new family memories.
Benefits of Unplugging
What is a family digital detox? It can be a set time each day when devices are put away, and you enjoy an activity together. Or, you can create a family challenge and limit screen time for a week, two weeks, even a month.
According to the American Academy of Child and Adolescent Psychiatry:
On average, children ages 8-12 in the United States spend 4-6 hours a day watching or using screens, and teens spend up to 9 hours.
Logging too much screen time can cause myriad problems, affecting a child's sleep, school work, self image, mood, and ability to relate with others.
A study published in Computers in Human Behavior showed that a five-day digital detox improved preteens' ability to pick up on nonverbal emotional cues. Researchers observed students who took part in a five-day outdoor camp without access to screens. Taking time away from screens opened up opportunities for face-to-face social interaction.
For adults, intentionally taking time to unplug can reduce stress, improve work-life balance, and improve your ability to focus.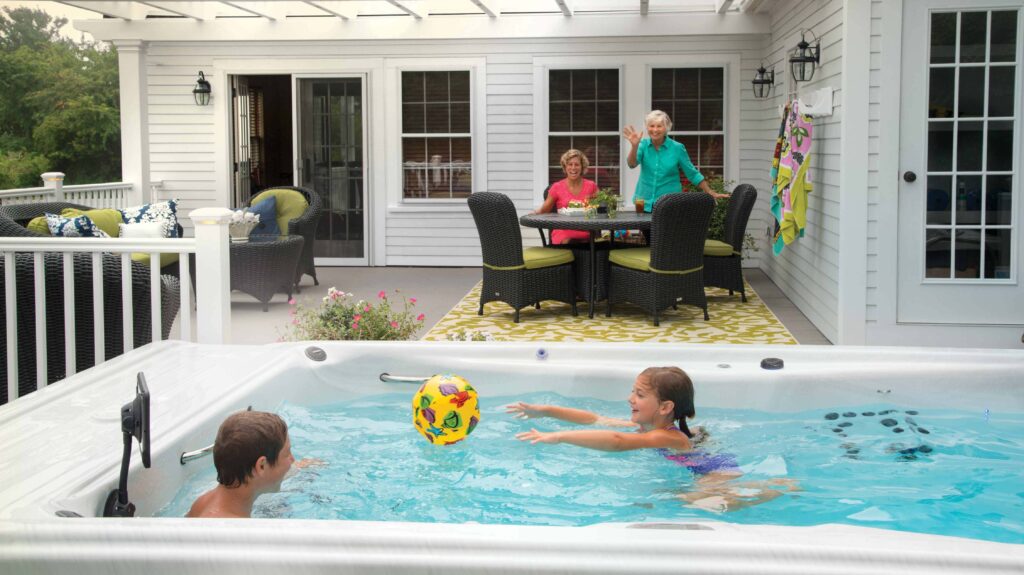 Activities for a Family Digital Detox
When you are planning a family digital detox, you might be wondering what to do. How do you keep the family engaged and happy when they are used to having constant access to their devices?
A Master Spas swim spa is a natural screen-free zone, helping you to balance screen time with healthy activities. You can incorporate the pool alternative into your family routine so that no one even thinks to reach for a tablet or phone.
Here are five family activities for your swim spa — one for each day of your digital detox.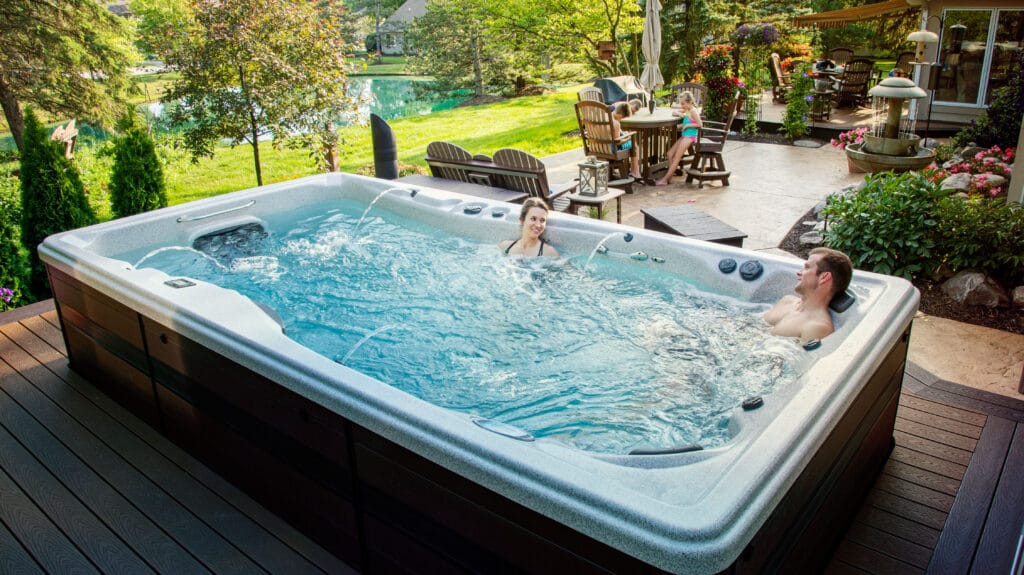 Swim and Soak
A digital detox can help you to get off the couch and get moving. Whether you have an established fitness routine or want to start one, a Master Spas swim spa offers a comfortable space to swim and exercise. Swimming is a low-impact exercise for all fitness levels.
One person can swim against the current of water while the rest of the family relaxes in the therapy seats.
If your family is competitive, you can take turns swimming at a set pace and see who can go the longest. The H2X Challenger series and Michael Phelps Signature Swim Spas are ideal for active families who want a space to swim and train at home.
Game Night
Does everyone go their separate ways after dinner? Postpone the clean-up and head out to the swim spa for game night. You can play with waterproof cards or a game of tic-tac-toe on an inflatable board. Looking for something more active? Grab a beach ball or set of dive sticks and let the kids splash around.
All Afloat
Master Spas swim spas are 8-feet wide and vary in length, from 12-feet to 19-feet. The swim area is spacious, with room to relax on a comfortable float. Enjoy a quiet moment with your family as you dip your toes in the water. When you are proposing your screen time challenge, gift everyone in the family their own float.
'Pool Party'
Without unlimited access to their phones, children and teens might feel like they are missing out on what their friends are doing. Instead of giving into the FOMO, bring the friends to the house. A swim spa is the perfect place for friends to hang out. After all, everyone loves a good "pool party." They can splash or sit in "the bubbles" of the swim spa. Bonus: The friends will put down their devices, too.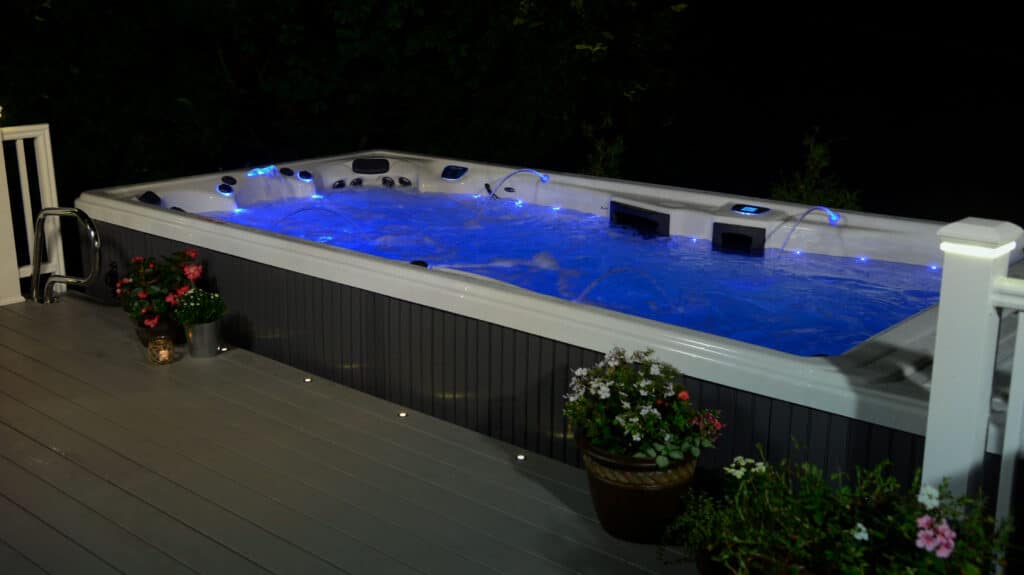 Star Bright
The setting sun is no reason to head indoors and turn on the TV. During your screen-free challenge, take time to enjoy the great outdoors and the night sky. Adjust the water temperature of your swim spa so it's comfortable for soaking (up to 99 degrees) and look at the stars. You can plan an activity based on the star chart, maybe spotting a visible planet or checking out the full moon. You can also visit the NASA website to see whether the International Space Station will be visible from your backyard.
On a cloudy night, you can create your own light show. Swim spas have LED light and water features, adding to the ambiance of your patio.