Master Spas Welcomes Professional Triathlete Tim O'Donnell to Brand Ambassador Program
FORT WAYNE, Ind. — NOVEMBER 19, 2020
Master Spas, the world's largest swim spa manufacturer, is excited to announce a partnership with professional triathlete and IRONMAN® champion Tim O'Donnell.
"We couldn't be more excited to welcome Tim to the Master Spas family," says Kevin Richards, Vice President of Sales and Marketing. "Like us, Tim strives to be the best while finding balance between work and family. We look forward to working with him and helping him optimize his performance."
O'Donnell is one of the world's most successful and experienced American long-course triathletes. He finished second at the 2019 IRONMAN® World Championship in Kona, HI and recorded the fastest American finish ever (7:59:40). As a professional, he has earned more than 50 podium finishes, including more than 22 wins at major events throughout the world.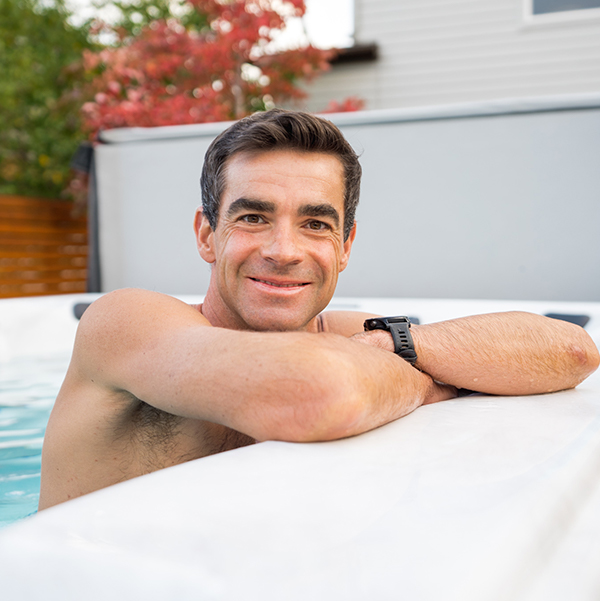 "I'm incredibly excited to officially join the Master Spas family," O'Donnell says. "With Rinny already part of the team, I've had the luxury and pleasure of using our Master Spas Challenger over the past year. I immediately fell in love with all our Challenger has to offer: easy access to swim training, the benefits of hydrotherapy and of course the perfect way for us to play and relax with our daughter Izzy."
Tim is married to three-time IRONMAN® World Champion Mirinda Carfrae, who is also a brand ambassador for Master Spas. Together, they have a daughter named Izzy and are expecting their second child later this year.
The family has an H2X Challenger 15D, which was installed in early 2020. The swim spa features a variable speed system, which allows O'Donnell to set the pace of his workouts — whether it's swimming or aqua jogging.
"I've loved being able to simulate open water training sessions in our Master Spas and I've been pleasantly surprised how swimming against the airless VIP technology jets has also allowed me to focus on my technique," O'Donnell says. "One of the best benefits of our Master Spas swim spa is of course the convenience! When you spend as much time training as we do, it's nice to stay home for a swim. Swimming isn't the only training I do in our Challenger, I'm a big fan of aqua jogging for active recovery. With the soft tread floor system I'm able to do my weekly aqua jog at home as well. Master Spas has been a great addition to both my training routine and to our family fun time. I'm looking forward to sharing our story and all the benefits Master Spas have to offer to endurance athletes and wellness-minded families everywhere."
Professional triathletes Ben Hoffman and Meredith Kessler also train in an H2X Challenger 15D. Michael Phelps, and Taren Gesell are also brand ambassadors.
For more information about Master Spas, go to MasterSpas.com. Follow the manufacturer on social media at @masterspas.
About the H2X Challenger Series
The H2X Challenger Series from Master Spas bridges the gap between traditional jetted swim spas and propulsion systems. The unique airless jet system creates a water current that is more efficient, powerful, and smoother than the competition. With the ability to control the resistance and temperature, novice swimmers to competitive triathletes can enjoy a continuous swimming experience that mimics open water. That's why swim spas from Master Spas are the official swim spa of the IRONMAN® World Championship.
About Master Spas
Master Spas is based in Fort Wayne, Indiana, 90 miles northeast of Indianapolis. Operating out of a state-of-the-art, 614,000-square-foot manufacturing facility on a 45-acre manufacturing campus, Master Spas is the largest swim spa manufacturer in the world, and largest portable hot tub manufacturer that makes 100% of our product in the USA. The company's executive team boasts more than 200 years of spa manufacturing success and one of the strongest track records in the industry. For more information, please visit: www.MasterSpas.com