The Master Crafted Advantage
Rooted in Innovation
Over the past 20 years, Master Spas has built a reputation for innovation that goes beyond just our products and features. The innovative spirit of Master Spas permeates every aspect of our company. Most importantly, our products aren't just "made," they're Master Crafted.
Every one of our hot tubs and swim spas are made in the USA. Each design is specially engineered and designed to deliver enhanced therapy through smart, innovative design features. And then there's the Master Crafted advantages you don't always see or think about, but still make a huge difference. These include advanced insulation, filtration and heating system, along with the extra steps that we take to ensure that our spas are easy to maintain and offer outstanding performance now and for years to come. So while there may be countless spas out there, there's only one Master Spas.
Our Quality Standards
At Master Spas, quality is more than just a 100 point inspection process during the water testing of every hot tub and swim spa. It's more than the added cost of using only premium components. It's also more than the rigorous standards we establish for each of our suppliers. For us, quality is a way of life and a state of mind. All to make sure you have peace of mind in the hot tub or swim spa you've chosen. Relax. It's Master Spas.
Master Crafted Advantages
Fiberglass Reinforced Billets
These add strength and durability to the frame's top flange.
Vac-Formed ABS Pan Bottom
The Legend Series frames are further reinforced with a vac-formed, high density polymer base designed to keep heat in and pests out. The ABS Pan Bottom is optional on all 7 foot or 8 foot Twilight Series, Healhty Living, and Clarity Spas.
Manifold Plumbing System
Pressure is distributed equally among the jets.
Coated Wood Frame
Our heavy duty 2 x 4 engineered frame features a coated toe-kick to reduce moisture absorption where it matters most, the part of the frame closest to the ground.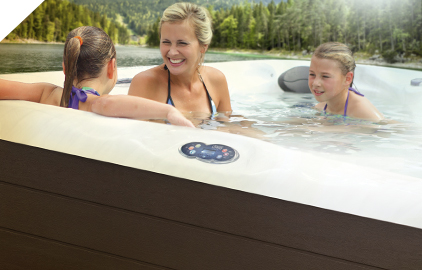 DuraMaster Premium™ Skirting
Our exclusive skirting is made of high-impact, weatherable polymer. Not only is it easy to maintain, but it also comes with a lifetime warranty. The authentic wood grain patterns are etched in for a rich, three-dimensional look. The skirting also ages well with virtually no fading or color change.
Insulation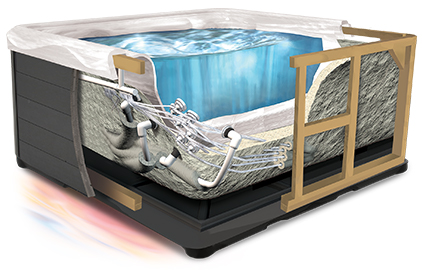 Environmentally-Friendly Foam Installation
Our exclusive environmentally-friendly foam insulation forms a continuous thermal barrier and makes our spas among the most energy efficient spas available today.
Supports the weight of the spa's plumbing
Expands to 100 times its volume in seconds to insulate and air-seal the spa
Eliminates cold spots and maintains consistent, comfortable temperature
Keeps cold air out, helping prevent condensation, mold and mildew
No ozone destroying gases or gas emission hazards
Certified to the California Energy Commission (CEC) as meeting Title 20 efficiency requirements