Hot Tub Features
Explore the exclusive and innovative hot tub features Master Spas Offers. Standard and optional features of specific hot tub models can be found on individual model pages. If you would like to compare the available features by brand, click here.
Seating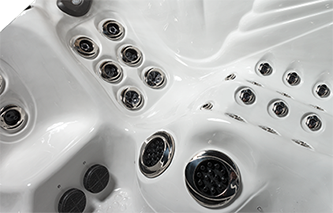 Ergonomic Design
From the minute you sit down, you'll feel the difference. Our engineers created seats that complement the contour of your body, making it easy to relax, naturally. Once you're wrapped in comfort of the form fitting seats, strategic jet placement delivers targeted hydrotherapy from head to toe.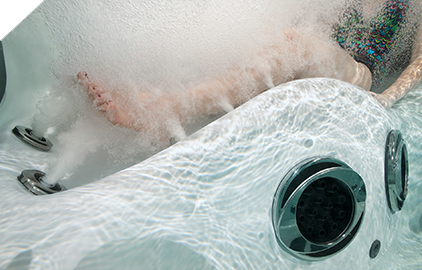 Xtreme Lounger Seat
Nourish your body in the Xtreme Lounger full-body massage seat, one of our most powerful therapeutic massage experiences.
Learn More
Master Force™
Bio-Magnetic Therapy System
Magnetic therapy has been used for centuries to relieve pain, improve circulation, reduce swelling and alleviate stiffness. Today, more and more doctors and physical therapists are returning to the healing effects of magnetic therapy.
Learn More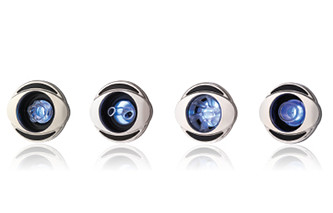 Orbit Jets
Orbit Jets with crystal-like nozzles add a decidedly upscale and distinctive look to your hot tub. Great looks are only a part of the story. Many of these beauties have fully adjustable velocity, ranging from 10-100%, allowing you to customize every seat.
Sights & Sounds
Orion Light System™
Our Orion Light System is anything but ordinary. An array of colors illuminate controls, water features, under the water, and more. With just a touch of a button from the easy-to-use topside controls, you can create a custom lightshow that fits any mood.
Dream Lighting*
Beautiful soft streams of light accent the exterior corners of your hot tub. Not available with DreamStone Skirting.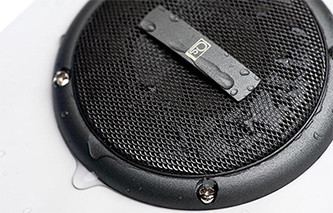 Fusion Air Sound System*
This high-tech hot tub stereo includes four interior, water-resistant speakers, and a subwoofer. Other available functions include FM radio and Bluetooth®, both of which are controlled by a weather-resistant touchpad.
Learn More
WiFi Module*
Now you can set the mood of your hot tub from the convenience of your Apple® or Android® device prior to entering. With the optional integrated Wi-Fi module that works with the Balboa Water Group Wi-Fi Spa Control app, you can remotely control how your hot tub operates, including the lighting, water temperature and running massage pumps.
QuietFlo Water Care System™*
This advanced water circulation system keeps hot tub water in motion, filtered and heated, even when the spa is not in use. Optional on Michael Phelps Legend Series hot tubs.
Learn More
* Feature availability varies by brand and model. Please reference the model pages for specific feature availability.