Master Spas Unveils New Hot Tubs and Swim Spas at International Dealer Meeting in Phoenix
Fort Wayne, Ind. – November 9, 2018
With the announcement of completely redesigned control panels and the introduction of four new swim spas, Master Spas reinforced to dealers from around the globe that there's no shortage of innovation and zero intention of slowing down. The 2018 International Dealer Meeting, recently held at the Sheraton Grand at Wild Horse Pass in Phoenix, gave dealers an opportunity to see the new products up close, try out new features and hear about Master Spas' commitment to the future.
For 2019, Master Spas completely reimagined the spa control panels with the user in mind. The displays are larger, more vibrant and intuitive, utilizing full-color graphics and icons to create a best-in-class user experience.
"Analyzing the products available on the market, we felt there was a real opportunity to rethink the user interface and improve the customer experience," Kevin Richards, Master Spas VP of Sales and Marketing, said. "The new user experience was thoughtfully constructed to make operating a Master Spas hot tub or swim spa intuitive, so our customers can spend more time relaxing and less time trying to navigate the control panel."
The H2X Fitness Swim Spa lineup saw a major overhaul with the introduction of four new swim spas: the Therapool 13 and three Challenger models. While the Therapool 13 was designed to meet increasing customer demand for a larger entry-level swim spa at an affordable price point, the H2X Challenger Series was designed to change the game entirely. The H2X Challenger Series features three swim spas and is the first truly variable-speed jetted swim spa on the market. This new technology allows for a customizable user experience, and the control panel allows workouts to be preprogrammed with ease.
"We set out to create the best jetted swim spa on the market, and based on the feedback we've received from swimmers, I believe we accomplished that goal," Nathan Coelho, Master Spas VP of Engineering, said. "The six-jet, zero air induction VIP system provides a wide, deep current of water that, when coupled with the programmability features, creates a swim experience that is simply unsurpassed by any other jetted spa on the market."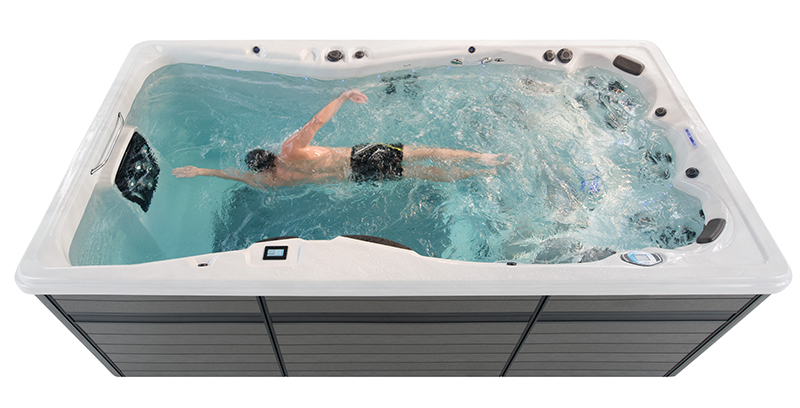 In addition to the new products and features, Master Spas announced a sizable expansion to its manufacturing campus, adding 166,000 square feet to house swim spa production, as well as the R&D, engineering, marketing and executive teams. This expansion positions the company to maintain high quality standards and keep production times at a minimum as it continues its streak of unprecedented growth.
About Master Spas
Master Spas is based in Fort Wayne, Indiana, 90 miles northeast of Indianapolis. Operating out of a state-of-the-art, 614,000-square-foot manufacturing facility on a 45-acre manufacturing campus, Master Spas is the largest swim spa manufacturer in the world, and largest portable hot tub manufacturer that makes 100% of our product in the USA. The company's executive team boasts more than 200 years of spa manufacturing success and one of the strongest track records in the industry. For more information, please visit: www.MasterSpas.com