Win Your Day
We want every person, every athlete, to have the opportunity to be their best self — whether it's reaching a fitness milestone or making it to the top of the podium. It can be challenging, though, to balance dreams and passion with real-life demands. But we don't believe you should have to give up the chance to discover a better you. You deserve to find your moment. Your moment to exercise. Your moment to recover. Your moment to Win Your Day.
With a swim spa by Master Spas, you can enjoy the benefits of training in the water in the convenience and privacy of your backyard.
Train, Recover, Relax.
At Master Spas, we believe that everything you do in a training block adds up when you line up on the beach. A swim spa by Master Spas allows you to refine your swim technique, cross train, recover, and relax so that you feel your best on race day.
Continuous swimming experience mimics open-water swimming
Easy-to-use controls let you set the pace of your workout
Swim in a comfortable temperature in the 80s and recover in warm water set in the 90s
Therapy cove features custom massage jets that target the back and legs to ease muscle aches and pains
Contoured seating offers a place to relax so you can reconnect with friends and family
Congratulations and Mahalo
Thank you to everyone who stopped by the Master Spas booth in IRONMAN Village as part of the Vega IRONMAN World Championship. Whether you were participating in the epic race or supporting an athlete, we were appreciate the opportunity to be a part of your experience. Learn more about the H2X Challenger swim spa and take a test swim near you by finding your local dealer.
MIRINDA CARFRAE
Three-time IRONMAN World Champion
"IRONMAN training takes up a lot of my day and having an H2X Fitness Swim Spa at home not only saves time but also allows me more time with our baby daughter Isabelle."
BEN HOFFMAN
Seven-time IRONMAN Champion
"We all know that training for a triathlon can be very timeconsuming, and swimming is often the biggest barrier or performance limiter for the age-group triathlete. With the H2X Challenger swim spa right in my own backyard, I am able to minimize the energy outlay to get my swim workouts done and focus on the technical work that needs to happen in the water."
At Master Spas, we make buying a hot tub or swim spa just as relaxing as using one.
See a hot tub or swim spa, select the perfect size.
We can do this with a photo & dimensions or by visiting your backyard.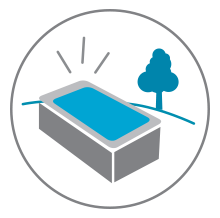 When you're ready, a hot tub or swim spa can be installed in one day.